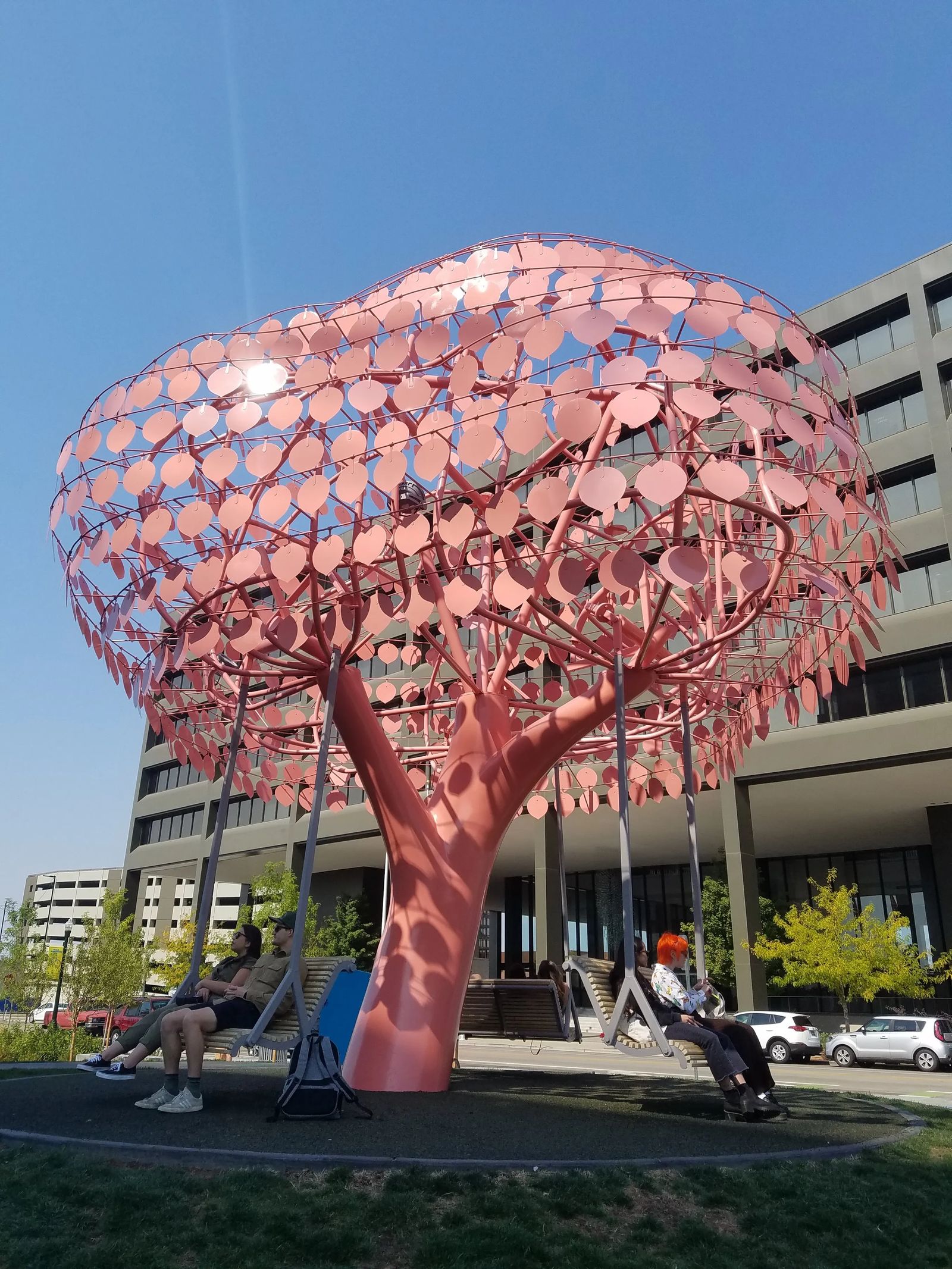 Weekly Gem #265, Gentle Breeze
Published 11/13/21
Location: This 'hidden gem' is located near the intersection of West Bannock and North 11th St. in Boise, ID (see the Clue Me! Map).
"Gentle Breeze" is a large pink metal tree in the Cherie Buckner-Webb Park. The sculpture is aptly named, as one can see the big pink leaves sway as the wind coming from the foothills pushes against them. This interactive art piece by artist Matthew Mazzotta has three double-seater swings that beckon visitors to sit in its shade for a while. It perfectly establishes a social space in the city yet still connects us to the mountains and rivers surrounding Boise.
Cherie Buckner-Webb, whom the park is named after, was the first Black woman elected to the Idaho Legislature. She has spent her life as an advocate for civil and human rights - something anybody who swings under the leaves of Gentle Breeze would expect for themselves, their family and their community. The park's welcoming green space, and interactive sculpture seem to capture some of what Cherie wants for her community, to "...get to know your neighbors and people who are different from you."
Gentle Breeze is a piece of art that invites people to sit together shoulder to shoulder making themselves at home.
.........
Here's the hidden gem entry from our Clue Me! map.
Clue
647 PINK leaves!
Description
"Gentle Breeze" by artist Matthew Mazzotta located in the Cherie Buckner-Webb Park
Why It's Interesting
This is an interactive sculpture with 3 double-seater swings under the tree branches. The leaves sway in the wind that comes from the foothills near Boise. It's a good place to have a lovely conversation with a friend!