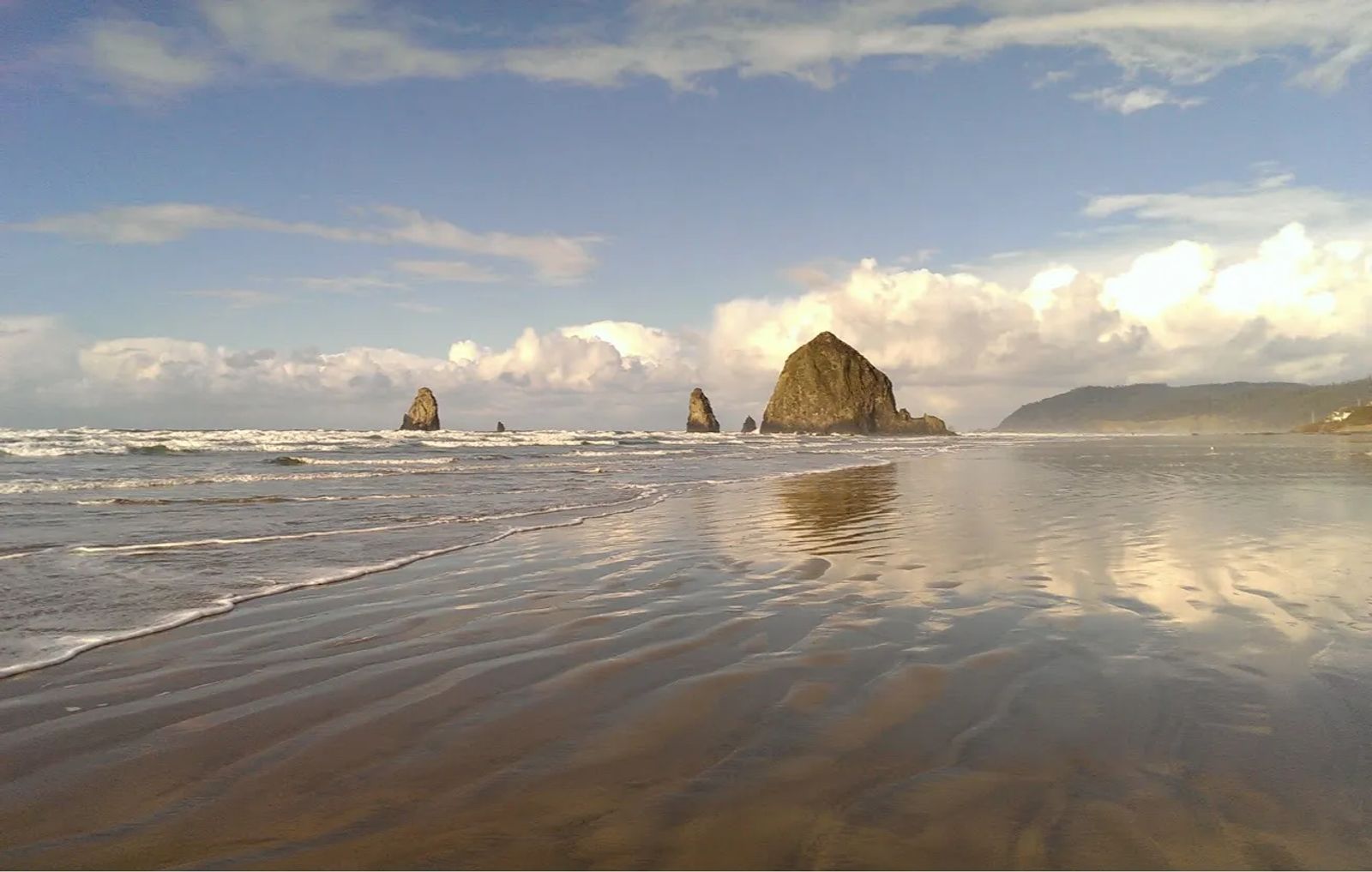 Weekly Gem #121 Find the Needles, and the Haystack
Published 6/10/2017
Location: This 'hidden gem' is located a short walk north of the Tolovana Beach wayside, and just offshore, in Cannon Beach, OR (see the Clue Me! Map). It may seem odd to describe one of the most photographed rocks in Oregon as a "hidden" gem, but this is one situation where a photograph doesn't quite cut it. The visual is spectacular, but your enjoyment is multiplied if you take it in while experiencing the sound and motion of the surf, the breeze, the salt air, and the ability to get up close. During low tide, you can walk right out to the haystack.
One thing that isn't obvious from a photograph is that there are a few really big rocks, surrounded by hundreds of smaller rocks with all kinds of nooks and crannies. This creates lots of tide pools, in which you may see anemones, star fish, sea slugs, crabs, and other animals that spend their days at the beach. Birds make their homes on the rocks, including a colony of tufted puffins during the spring and early summer.
Even the sand is hypnotic. It is a mixture of dark and light grains that are different densities, so tend to glom together. You wind up with lines of dark and light, which swirl and rearrange before your eyes as the water washes up and down the beach.
Go! This is one needle and haystack you'll appreciate finding in person.
.........
Here's the hidden gem entry from our Clue Me! map.
Clue
Find the Needles, and the Haystack
Description
Haystack Rock and the Needles Rocks
Why It's Interesting
This is a well known rock formation, but you don't realize how hypnotic until you see it in person. The scene is changing constantly with the light, wave intensity, and tide. It's pretty easy to go out for a short walk, and (ironically) only leave when nature calls.
Sponsor
Pickpockets are blue, their faces are red. Foiled again! 130°® satchels, here to protect your good stuff.