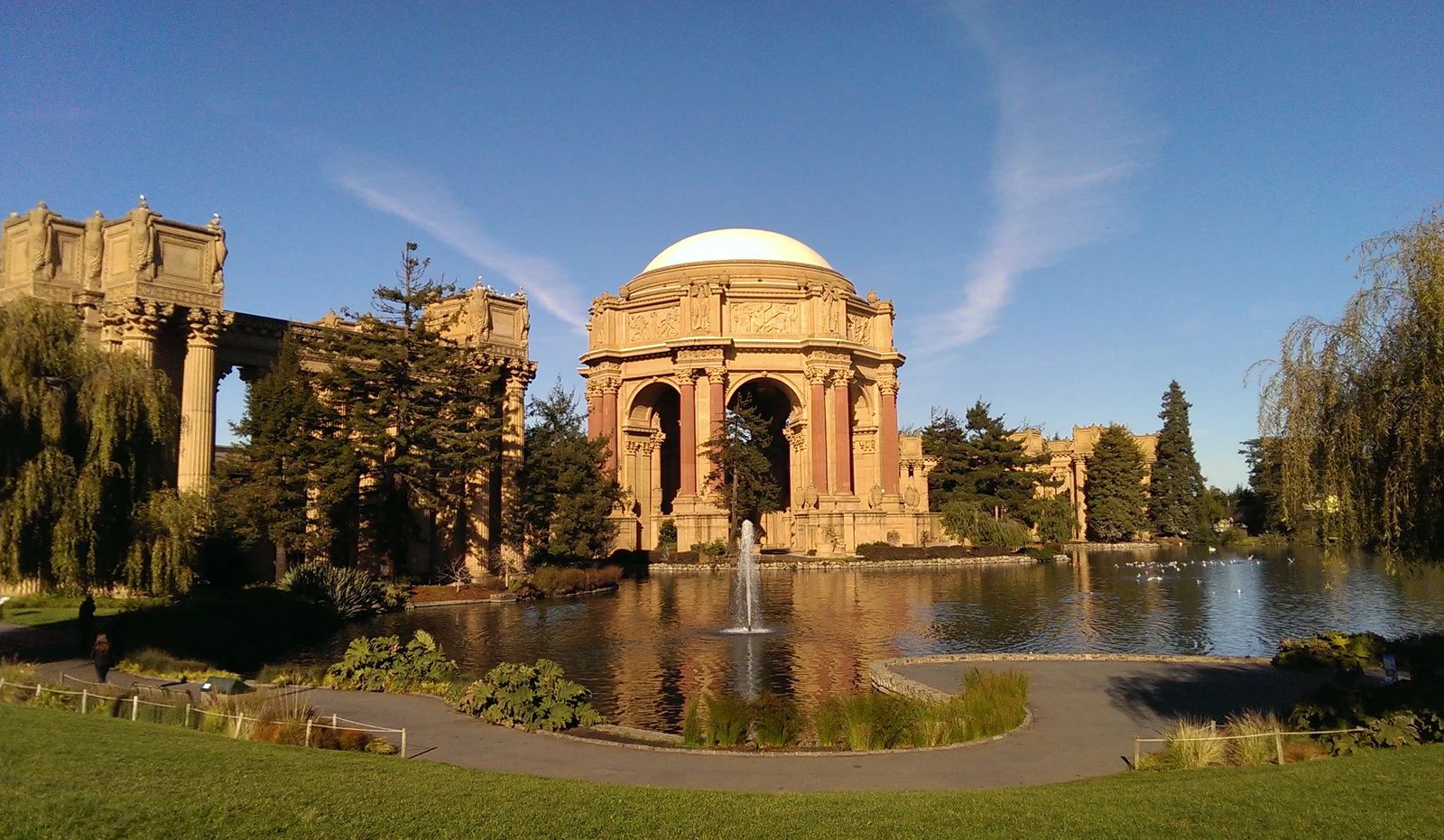 Weekly Gem #235 Built to (not) last, but it did. Then it didn't. Then it did.
Published 6/27/20
Location: This hidden gem is located at the intersection of Bay and Baker Streets, in San Francisco, California (see the Clue Me! Map). The Palace of Fine Arts. A very pleasing structure, which you were never intended to see.
There were ten 'palaces' built for the 1915 World's Fair in San Francisco, all of which were to stand for the 10 months of the fair, then all would be dismantled. Nine were taken down as planned, but as sometimes happens (think Eiffel Tower), one World's Fair 'exhibit' was so popular that the locals decided to keep it.
Bernard Maybeck, the architect, might explain that the secret to its appeal was not the building itself, but the building within this setting. His philosophy was that architecture, "to be beautiful, needed only to be an effective background for landscape."
Maybeck was diligent in meeting architectural design specs. When he was told to build the palace to not last, that's exactly what he did. Rather than stone or cement, he used wood framing covered with a variation on plaster of Paris that was reinforced with cloth.
This Palace was designed to easily come apart, and over a few decades, that design spec was met. By 1950, the buildings were crumbling, a fair replica of a Roman ruin. By 1960 they were unsalvageable. In 1964 the Palace was entirely demolished, and rebuilt using modern and durable framing and materials, duplicating as much of the original design as possible.
While this restored setting is pleasing, it isn't the ending that Maybeck preferred. Maybeck died at the age of 95 in 1957, as the Palace was falling apart, and before the plans to rebuild had taken hold. He was asked what he thought should be done, and here was his suggestion:
"I think the main building should be torn down and redwoods planted around--completely around--the rotunda.... As they grow, the columns would slowly crumble at approximately the same speed. Then I would like to design an altar, with the figure of a maiden praying, to install in that grove of redwoods.... I should like my palace to die behind those great trees of its own accord, and become its own cemetery."
.........
Here's the hidden gem entry from our Clue Me! map.
Clue
A fine view of architecture as art
Description
The southern exposure of the Palace of Fine Arts
Why It's Interesting
A very pleasing view of the Palace of Fine Arts. Bernard Maybeck was the architect, and he emphasized landscape as part of his architecture. Nearby is a description that says: "... architecture here, to be beautiful, needed only to be an effective background for landscape."