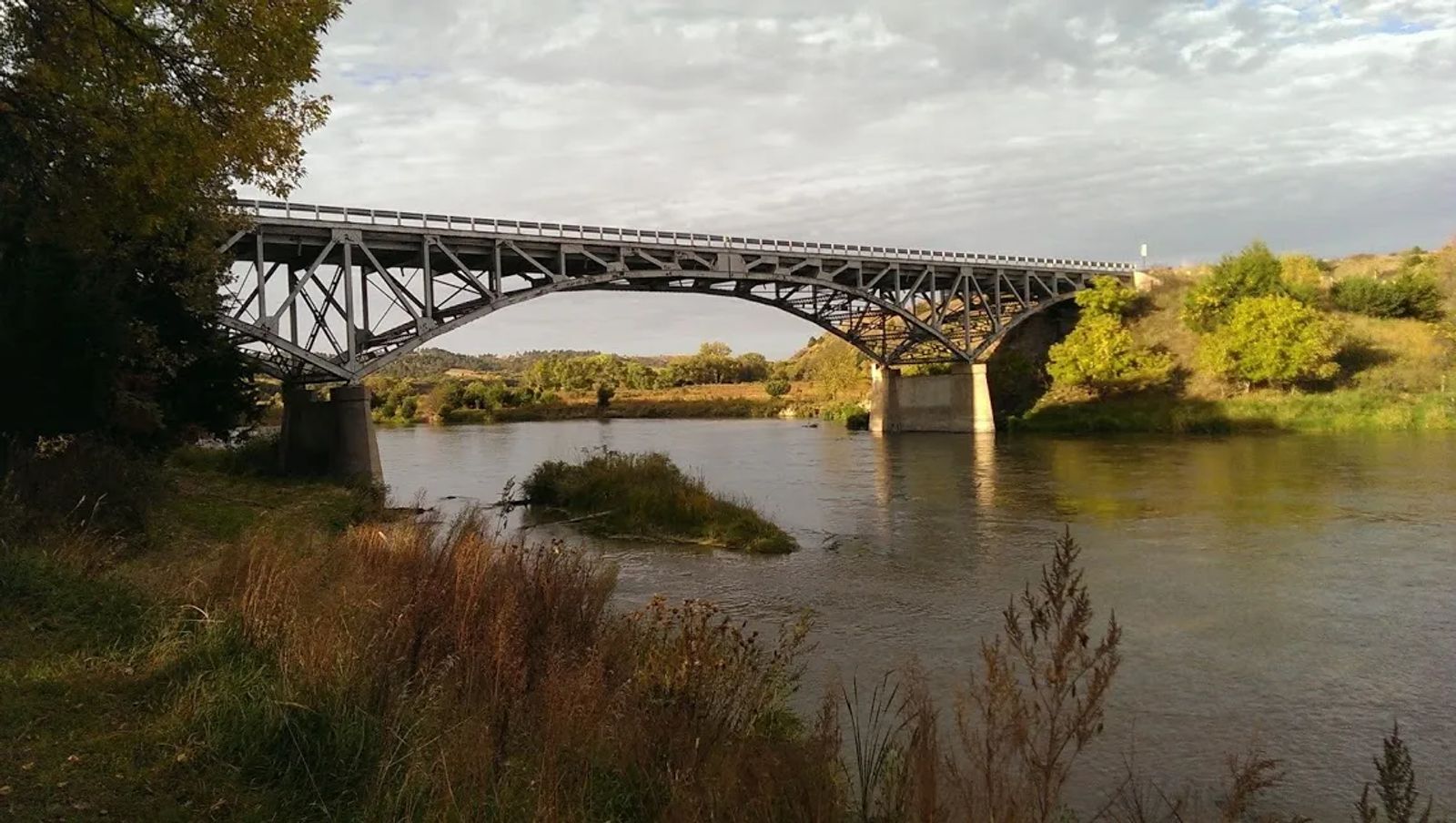 Weekly Gem #202 A lovely drive on pins and needles
Published 6/29/2019
Location: This hidden gem is another of the many to be found on U.S. Route 20 (See Gem #180 ,Road Trip!), this located about three miles south of Valentine, NE (see the Clue Me! Map).
When asked why he chose this design, Josef Sorkin said, "Aesthetics. It blended into the surroundings." He was certainly correct; because in 1932 it was designated the "Most Beautiful Steel Bridge."
It was also an economical and clever design. The bridge used a cantilever design, which essentially means you have two long arms balanced over each pillar, one arm anchored on shore, the other reaching out to meet the opposite side. You can see where the arms meet at the top of the center arch. This design is so strong and stable that only one pin is used where the arms meet to hold the bridge together.
(Perhaps it's best that drivers aren't told that the bridge is held together by that single pin, or they might be on pins and needles until they make it safely across!)
On a side note … a lesson about the perils of vacation (or, "while the cat's away, the Lieutenant Governor will play!"). Bear in mind that Nebraska is the only triply landlocked state in the U.S. (meaning you need to travel through three states to reach an ocean).
The Bryan Bridge was named after Nebraska Governor Charles W. Bryan. Governor Bryan left on vacation, leaving Lieutenant Governor Theodore Metcalfe in charge. Metcalfe's first initiative? He promptly created the Great Navy of the Sate of Nebraska, and promoted several people to the rank of Admiral!
In truth, being named Admiral of the Great Navy of the State of Nebraska is an honor. The person must have contributed substantially to the state, promoted 'The Good Life' in Nebraska, and earned recognition for their deeds. Great Navy of the State of Nebraska Admirals don't enjoy a military rank, there is no pay or compensation with the award, and no watercraft to command. The award certificate describes the honor as such:
And I [the Governor of Nebraska] do strictly charge and require all officers, seamen, tadpoles and goldfish under your command to be obedient to your orders as Admiral—and you are to observe and follow, from time to time, such directions you shall receive, according to the rules and discipline of the Great Navy of the State of Nebraska.
Bryan could have been upset, but he called it 'water under the bridge,' and moved on.
.........
Here's the hidden gem entry from our Clue Me! map.
Clue
I spy... a pin.
Description
The Bryan Bridge over the Niobrara
Why It's Interesting
This cantilever bridge is connected in the middle by one single pin.