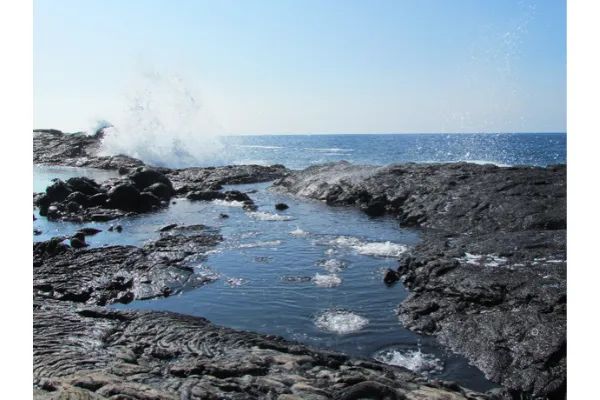 Weekly Gem #9 A natural wonder that needs to be heard
Published 2/8/2015
Location:  This 'hidden gem' is about as far west as you can get on the Big Island in Hawai'i, where the lava meets the sea (see Clue Me! ma p ).  It's a small wonder of nature, where tubes and waves meet in just the right way.
Clue
Listen!
Description
The rocks are breathing! Do not get too close to the edge! Turn onto Makako Bay Dr off the Queens Hwy (Hwy 19) just south of the Kona airport. Drive to the end of the road and watch for the parking spaces on your left to end. Park, walk out toward the ocean, over the lava, tide pool on your left.
Why It's Interesting
Unless someone told you to go, you'd likely miss this impressive sound. As the waves crash into the lava tube below it forces air in and out of the lava rocks making them sound as if they are breathing in and out. The bigger the waves, the louder the breaths. If there is water on the rocks you will see air bubbles come up in the water and even an occasional small spout!