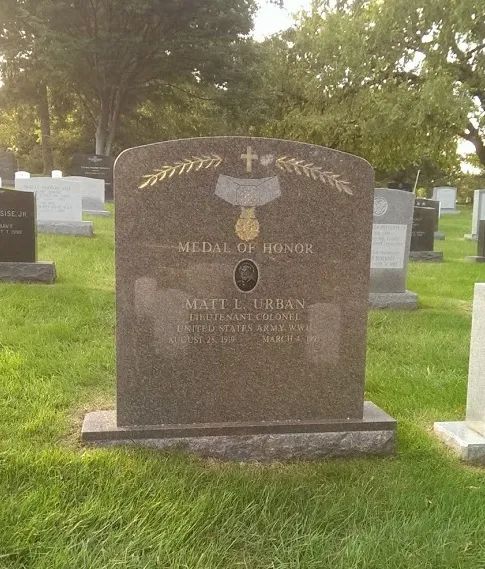 Weekly Gem #244, Matt "The Ghost" Urban
Published 11/11/20
Location: This Hidden Gem is located in Arlington National Cemetery, Arlington, VA (see the Clue Me! Map).
Matt Urban came back from World War II with a serious neck wound, one that kept him from talking for two years. Even after that, he rarely talked about the war. As a result, it was nearly 35 years after the end of World War II that the Army put all of the pieces together. At that time, President Carter presented Urban with the Medal of Honor, calling him the 'greatest soldier in American history.'
First off, his nickname. The Ghost. This came from the Germans he fought in North Africa, Sicily, France, and Belgium, who thought they killed him several times, only to have him show up again. Urban simply refused to be kept out of the fight.
His first action in north Africa, he was supposed to stay with the landing craft. Seeing his unit taking fire on the beach, he jumped into a rubber raft and rowed to shore, taking command of a platoon whose commanding officer had been wounded.
Also in Africa, at the Battle of Kasserine Pass, he led his Company to capture a key German position. They quickly counterattacked, and the Americans were beginning to fall back when Urban killed an attacking German hand to hand, took his machine gun, and turned it on other attacking Germans. The Americans held their ground.
Later in the war, shortly after D-Day, Urban's company was coming under heavy tank fire, and their bazooka gunner was wounded. Urban, the company commander, grabbed the bazooka and moved forward under cover of thick hedgerows … then he stepped out into full view of the Germans and took out two tanks, whereupon his Company was able to advance and rout the enemy. Urban was wounded in the leg, and told to evacuate, but refused, directing his men while being carried in a stretcher. The next day he was wounded again, and this time was evacuated to England, and from there he was to be sent home.
Urban volunteered to train some new recruits in England, near the hospital where he was recuperating, which allowed him to stay in England. There was a steady stream of other wounded men coming through, and it was very clear that there was a lack of experienced officers in France. In other words, he was needed in France. Urban took his 40 recruits to the ship to see them off … but instead of waving goodbye, he boarded with them and headed back to France, permission be damned. He then hitch-hiked from the landing beaches to where his unit was preparing for the next battle.
Sergeant Evans wrote after the war: "On the day of the St. Lo breakthrough in Normandy, Maj. Urbanowitz, who at that time was a captain, came limping up to our outfit in the front lines. … He arrived just prior to the breakthrough, and the sight of him limping up the road, all smiles and raring to lead the attack once more, brought the morale of the battleweary men to its highest peak."
A few days later, he replaced a wounded machine gunner on a tank. His unit was pinned down, and Urban crawled onto the tank and told the driver to floor it. Sergeant Evans wrote that "Urban moved forward, and damned if the U.S. Army didn't move forward also. … The tank roared forward, and Urban tore the hillside apart with that gun. The men, once again with 'Urban-itis,' scrambled up the rise and gained the objective."
One month later, shortly after his 25th birthday, Urban was shot through the neck during another attack. One of his men immediately plugged and bandaged the entry and exit wounds, but he was clearly not going to make it. They dragged him to a ditch where the Chaplain performed last rites as the Battalion doctor tried to save him. Stubborn as always, Urban refused to die, and in fact lived for another 50 years.
During his journey from North Africa to Belgium, Urban earned the Medal of Honor, two Silver Stars, Legion of Merit, three Bronze Stars with "V" (valor) device, seven Purple Hearts, the American Defense Service Medal, American Campaign Medal, European-African-Middle Eastern Campaign Medal with six service stars, WWII Victory Medal, Combat Infantryman Badge, Croix de Guerre with Bronze Star (from France), Croix de Guerre unit award (from France), Belgian Fourragere unit award (from Belgium) … and the undying esteem of his men.
.........
Here's the hidden gem entry from our Clue Me! map.
Clue
An Urban "Ghost"
Description
The grave site of Lieutenant Colonel Matt Urban
Why It's Interesting
Matt Urban belatedly became the 'equal' of Audie Murphy, both of whom received 29 medals in WWII, including the Congressional Medal of Honor. He earned 7 purple hearts, and the Germans called him "The Ghost," because no matter how many times they thought they killed him, he kept coming back. Many of his medals were awarded decades after the war because of a misplaced recommendation. Only after this was 'found' did the army piece together Urban's astounding record.