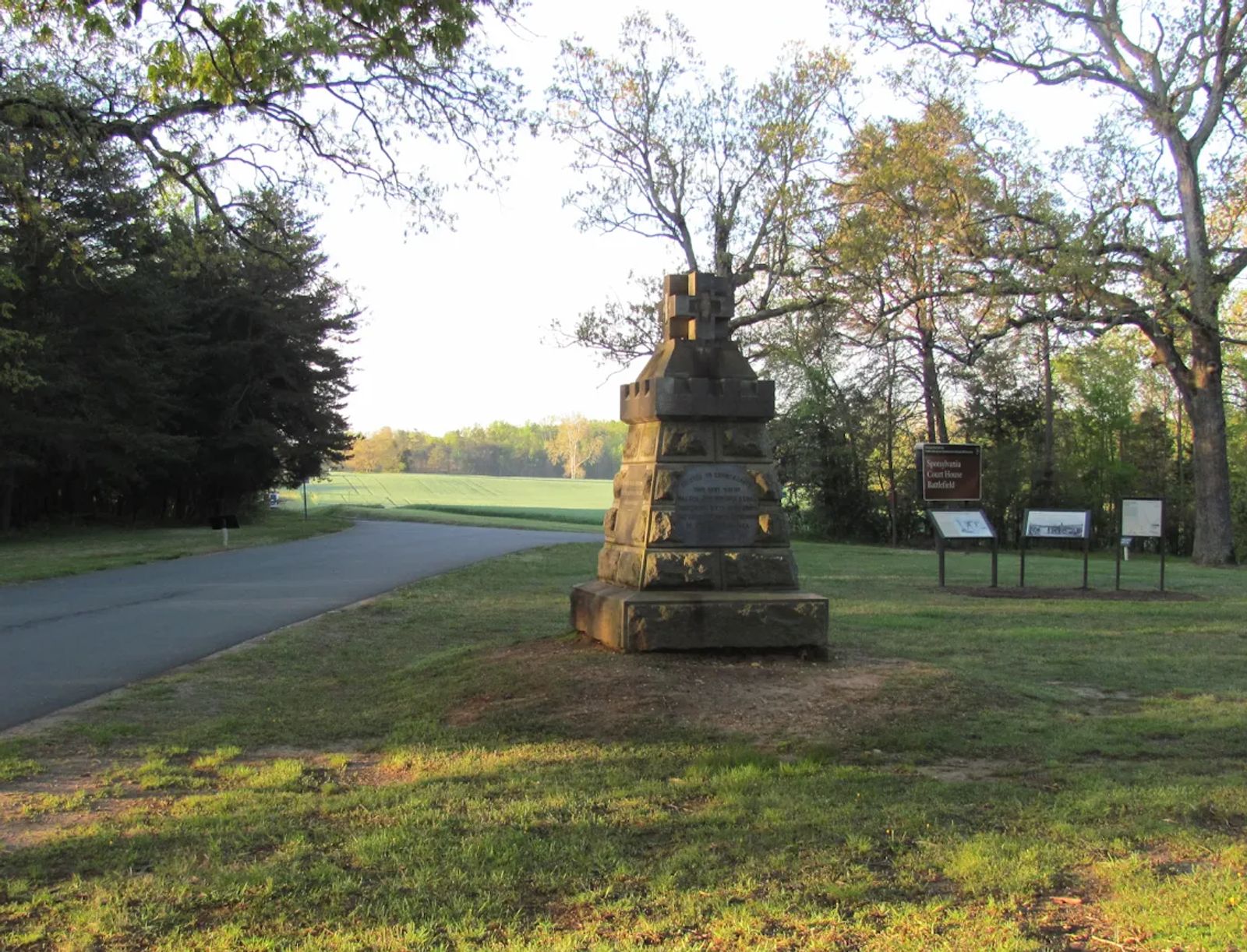 Weekly Gem #26 He couldn't hit an elephant from that distance
Published 6/19/2015
Location: This 'hidden gem' is just northwest of Spotsylvania, Virginia, within the area of the Spotsylvania Courthouse Battlefield of the Civil War (see Clue Me! map).
General John Sedgewick had a long career and many battles before and during the Civil War, recounted in 1880 by his Chief of Staff at Spotsylvania, General Martin T. McMahon. Two excerpts ( italics ) that illustrate his style and humor, and with at least two twists of irony, are below. (Additional historical accounts are included in the dedication of his monument at Spottsylvania (spelled with two "t's" in this document)).
His soldiers loved their general, and even the lowliest were able to joke with him in spite of the difference in rank. For example, after a series of forced marches interspersed with battles and entrenching, with very little rest:
The troops of the Corps, owing to the long and trying marches which they had been compelled to make, acquired the habit of calling themselves "Sedgwick's foot cavalry," and maintained that they were kept on the gallop all the time. It was a joke among them that Sedgwick never stopped until his horse gave out, and on one occasion, in Virginia, when he had dismounted by the road side and stood on a little bank leaning on the fence watching the troops as they went by, men in the ranks constantly called out, "Come on, we'll wait for you. Get another horse; we are in no hurry. " …
Once he understood the joke, he laughed and his men cheered.
At Antietam, Sedgwick was wounded through the leg and the wrist but refused to leave the desperate battle. After being wounded a third time, he lost consciousness and was carried from the field. He returned to duty before he was fully recovered, and:
Referring to the pain and annoyance of his wounds he once said laughingly: "if I am ever hit again I hope it will settle me at once. I want no more wounds."
.........
Here's the hidden gem entry from our Clue Me! map.
Clue
"He couldn't hit an elephant from that distance"
Description
The General John Sedgwick monument in Spotsylvania Battlefield marks the spot where Sedgwick was shot and killed. He was the highest ranking Union casualty of the Civil War.
Why It's Interesting
Sedgwick was one of the North's most respected and popular generals. On May 8, 1864 Confederate sharpshooter fire, from over 1000 yards away, had been harassing his troops. Sedgwick dismissed the danger. A soldier warned: "General...there is a sharpshooter over there and he might hit you." Sedgwick replied "you must not mind that fellow; he couldn't hit an elephant from that distance." Moments later the whistle of a bullet pierced the air, followed by a "dull, heavy stroke." Sedgwick fell dead.
Sponsor
Spotsylvania County Virginia , Crossroads of the Civil War™
Villainous pickpockets vs. travelers. How can the traveler ever win?!? But now the hero steps in, with a lopsided grin. 130°® bags are here to protect your good stuff!