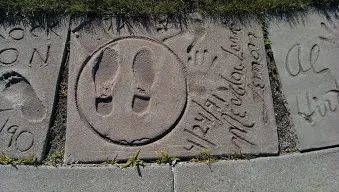 Weekly Gem #182 The Clown Prince of Basketball
Published 1/27/2019
Location: This hidden gem is located at Exit 348, just off Interstate 94 at the Visitors Center (formerly a grain elevator), in Fargo, ND (see the Clue Me! Map).
Meadowlark Lemon, born Meadow Lemon III, is a man we can all look up to. After seeing the Harlem Globetrotters playing when he was little, he knew that when he grew up, he wanted to entertain people by playing basketball. He practiced relentlessly, his first basketball hoop being an onion sack wrapped around a wire hanger.
When Meadowlark Lemon began playing for Globetrotters, blacks weren't allowed to play in the NBA. The Globetrotters therefore gave jobs, and exposure, to an exceptionally talented team of black players. At one point, Meadowlark Lemon and Wilt Chamberlain were Harlem Globetrotters teammates. They originally played serious games, taking on all comers (college, semi-pros, European teams, NBA teams) - and more often than not, they won!
After the NBA began accepting black basketball players onto their teams, the Globetrotters started concentrating on making their games entertaining. They used comedy while showing off their depth of talent and extreme ball handling skills. The Harlem Globetrotters averaged 325 games a year, played for kings, queens, presidents and the pope, and played in more than 100 countries. Meadowlark shone brightly with his charisma and ability to combine comedy with unprecedented basketball talent. That charisma - that joy and ability to make people smile won him the title, of "Clown Prince of Basketball." He was also known as the "Ambassador of Good Will in Short Pants."
As a boy, Meadowlark wanted to play outstanding basketball while bringing happiness to others. As an adult, he did just that. He was rewarded with the highest honor in each of his endeavors. He is the only person to have the distinction of being inducted in both the Basketball Hall of Fame and the International Clown Hall of Fame!
Meadowlark became an ordained minister and an inspirational speaker. He continued to encourage and motivate people with humor and his own gracious style.
.........
Here's the hidden gem entry from our Clue Me! map.
Clue
Don't you dare douse me with that cold bucket of wat ... Oh, it's only confetti!
Description
Meadowlark Lemon shoe and hand prints in cement
Why It's Interesting
You can stand in the exact spot where "The Clown Prince of Basketball," Meadowlark Lemon, stood! You can see how your hands measure up to the phenomenal, Meadowlark Lemon's, hand prints!