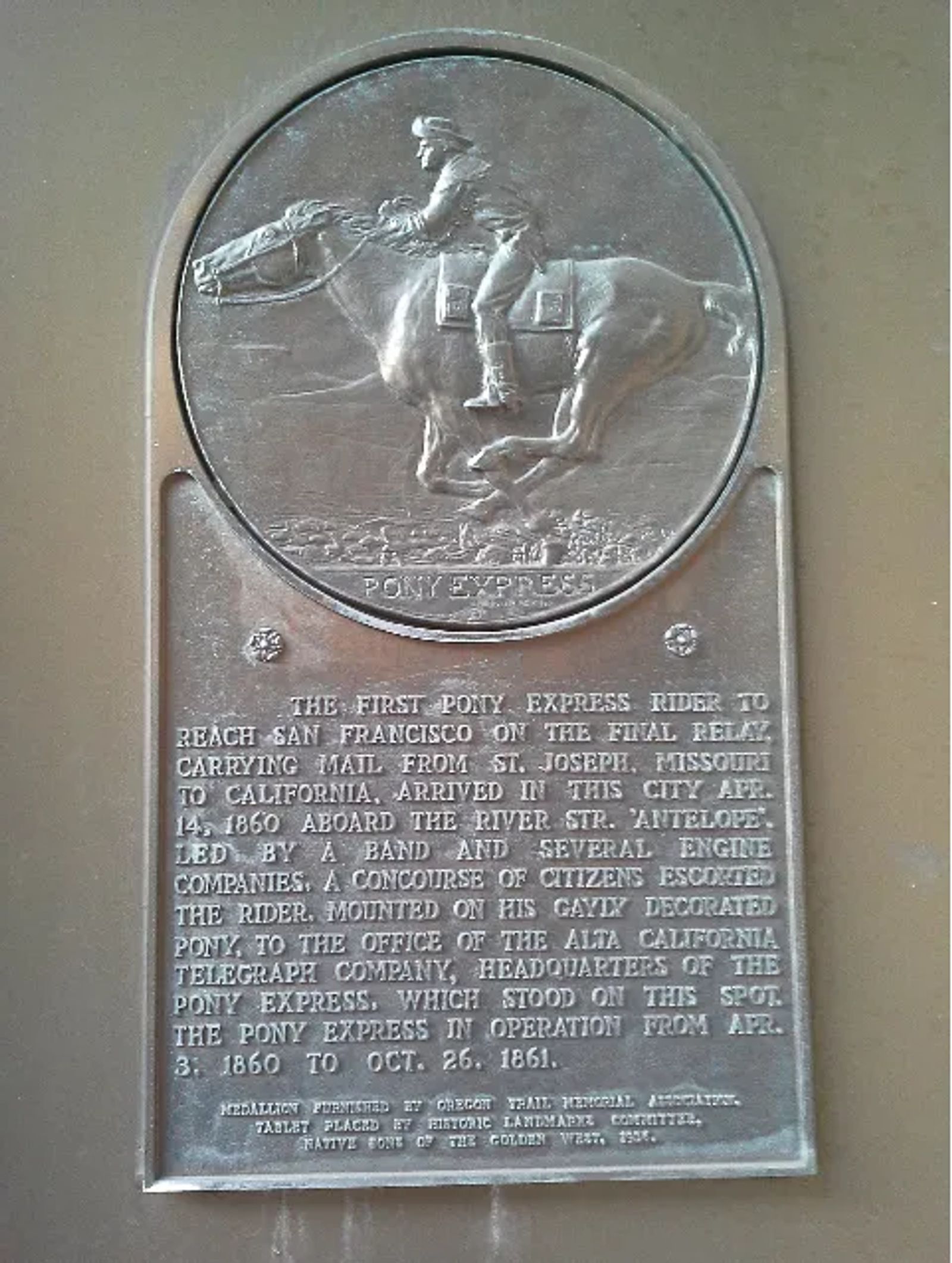 Weekly Gem #2. Wanted: : Young, skinny, wiry fellows not over eighteen. Must be expert riders, willing to risk death daily. Orphans preferred.
Published 12/13/2014
Location: This weekly gem is located on Clay St, near Montgomery, in San Francisco, CA (see the Clue Me! Map). This plaque is at the end of the line for Pony Express riders.
When this pony express rider arrived with his mail bag, it was the culmination of nearly 2,000 miles ridden in 10 days by 20 riders. Relay stations were about 10 to 15 miles apart along the route, which was almost entirely outside of the U.S. (since present day Nebraska, Colorado, Wyoming, Utah, and Nevada were not yet states). Most of the riders were under 20 years of age, the youngest being 11.
In the distance there's a smudge of dust, then a speck. Coming closer it becomes a sprinting horse carrying a skinny, wiry fellow ...
The station keeper brought out the fresh horse, already saddled and ready to go, so there would be no delay. The arriving pony express rider leaped from his horse, leaving it for the keeper to tend. He grabbed the mail bags, some water, and was on his way again in two minutes or less. Each rider covered their 75 mile leg of the relay as fast as possible, then waited for the mail delivery from the other direction and headed back.
Among the most famous riders were Buffalo Bill and Wild Bill Hickock.
All told, these riders covered 650,000 miles, most of them at breakneck speed.
.........
Here's the hidden gem entry from our Clue Me! map.
Clue
Wanted: Young, skinny, wiry fellows not over eighteen. Must be expert riders, willing to risk death daily. Orphans preferred.
Description
A plaque that marks the spot of the final destination of the first Pony Express ride.
Why It's Interesting
With lack of speedy communication and Forty-niners desperate for news from home, the Pony Express was born. Riders raced to each station (10 miles apart) as fast as they could where they'd receive a fresh horse. When they finished their route (about 100 miles) the next rider would take over. It took 20 riders to complete the 1966 mile mail run from St. Joseph, MO to San Francisco. They made this trip in about 10 days riding night and day. Famous riders were Buffalo Bill, and Wild Bill Hickock.
Sponsor
Pickpockets fail… Travelers smile… 130°® bags are here to protect your good stuff!
Who will mind the store while you're away? TrustedHousesitters will sit your house AND your pets!