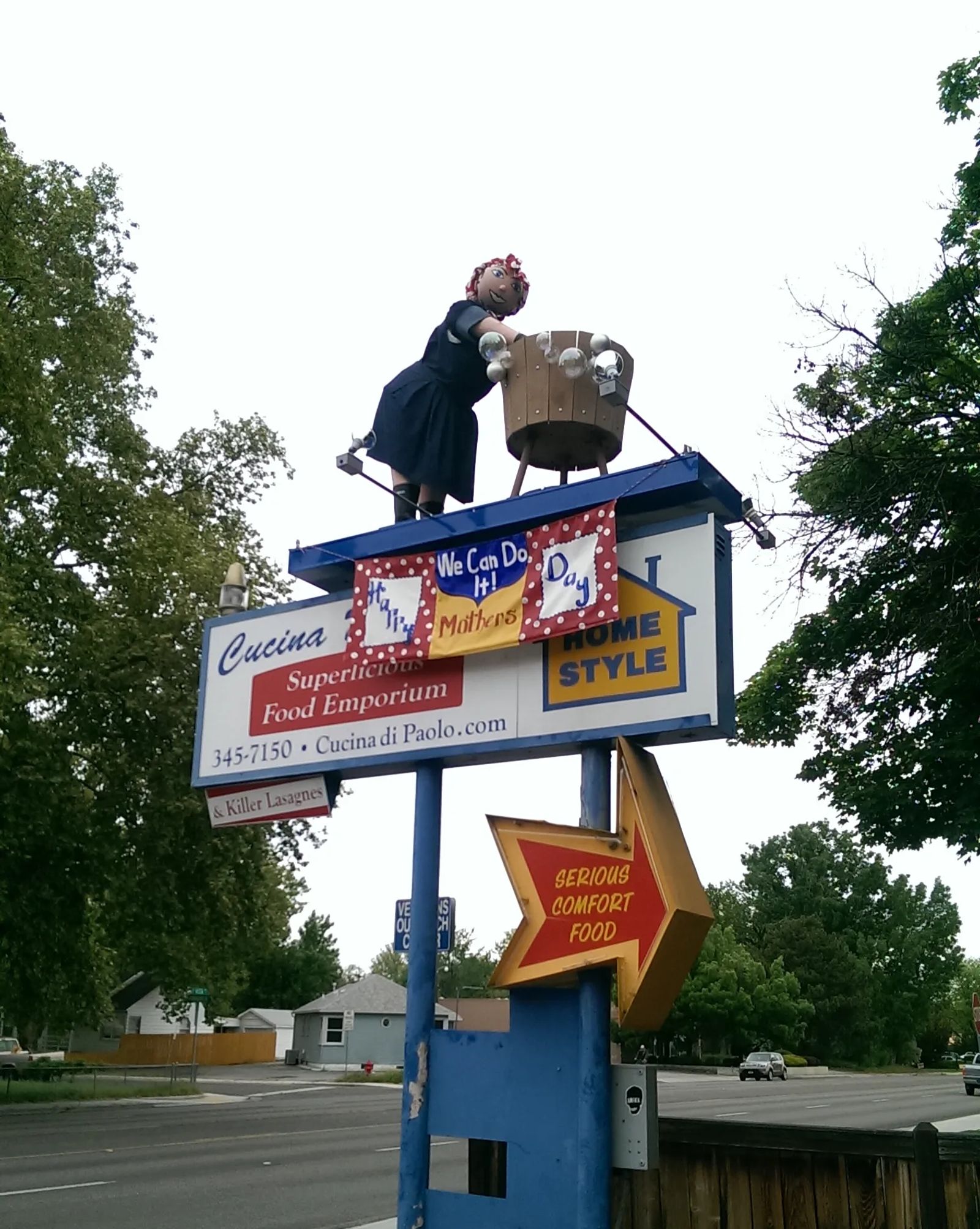 Weekly Gem #112 Squeaky Clean
Published 4/2/2017
Location: At the corner of S. Vista Avenue and W. Overland Road in Boise, ID (see Clue Me! Map), you'll see Betty, hard at work.
Betty the Washerwoman has been washing clothes in Boise since 1950! She has become a tribute to hardworking, compassionate people everywhere.
You might say that Betty the Washerwoman is treated like a queen. In fact, she has her own ladies-in-waiting who sew her one-of-a-kind clothes, and dress her in something new every month! In the photo above, you'll see her dressed in her "Rosie the Riveter" garb. She is so popular her "subjects" have even made a calendar of her! She is a benevolent soul, and the proceeds from her calendar go towards the Idaho Foodbank, raising thousands of dollars to feed hungry people. No wonder she is so popular!
Originally she drew attention to a Maytag laundromat, but since then the laundromat building has become (among other things) a restaurant. Caring for Betty comes part and parcel with the purchase of the building. The contract says that hitherto and henceforth, she will always be maintained by the building's owner.
.........
Here's the hidden gem entry from our Clue Me! map.
Clue
This is the job that never ends, yes it goes on and on my friends, some people started wearing clothes not knowing what they did, and they'll continue washing them forever just because this is the job that never ends, yes it goes on and on my friends, some people started wearing clothes not know...
Description
Betty the moving washerwoman
Why It's Interesting
Meet Betty. She is an icon. In 1950, Andy Teague built her out of plywood, foam and chicken wire to draw attention to a Maytag Laundry building. The building has changed business several times, but Betty has continued to wash. ("Why is there a washerwoman on a sign for a restaurant?") Her personal stylists change her clothes with the seasons. She's been around for so long that some people believe there is something spiritual about her - that if she isn't there then Boise will cease to exist!
♫ Sponsors, sponsors, bo bonsors, banana fanna, fo fonsors, fe, fi, mo monsors… Sponsors!
Pickpockets are blue, their faces are red. Foiled again! 130°® bags are here to protect your good stuff!
Support artists! Fabulous finds and creative curios on Etsy!