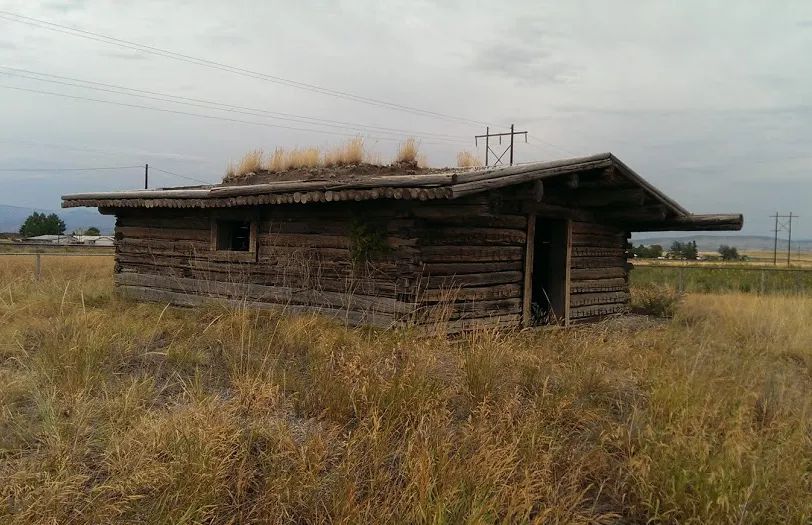 Weekly Gem #198 Settling For First
Published 6/1/2019
Location: This hidden gem is located on the southern edge of East Helena, MT (see the Clue Me! Map).
During the 1800s, intrepid groups of pioneers traveled together from their old home 'back east' to their new home in Oregon or California, and other places 'out west.' A long, hard, and risky trip, but working together, they would make a new life.
This was the case with Jonathan and Elmira Manlove and their two children. In 1864, they had traveled more than 1,000 miles from Iowa with a wagon train heading to Oregon. They stopped in the Helena Valley in Montana to rest and repair wagons, before the arduous crossing of the Rocky Mountains. Although Oregon was the destination to begin with, Jonathan and Elmira fell in love with the Helena Valley. So much so that they now faced a tough choice … continue on to Oregon with their party, or stay in this valley and make it their home - alone.
They chose to stay. They built this cabin before winter set in, this being the first permanent structure built in the valley. They grew potatoes and raised livestock in the lush pasture. This 'cozy' cabin would have been small for them and their eventual seven children, but it provided shelter during those cold Montana winters. It gives us a little picture into the lives of the very first American immigrants to Helena, Montana. While somewhat spur-of-the-moment, Jonathan and Elmira must have been happy with their decision, because they never left the area. In fact, one of their children, Wilbur, lived into his 90's and was a barber in Helena until 1961.
.........
Here's the hidden gem entry from our Clue Me! map.
Clue
Home Sweet Home
Description
The Manlove Homestead
Why It's Interesting
This is the first structure built by pioneers in Lewis and Clark County. It was built in 1864 by Jonathan and Elmira Manlove who decided to stay in the area instead of continuing west over the Rocky Mountains. They stayed in the area making it their home.