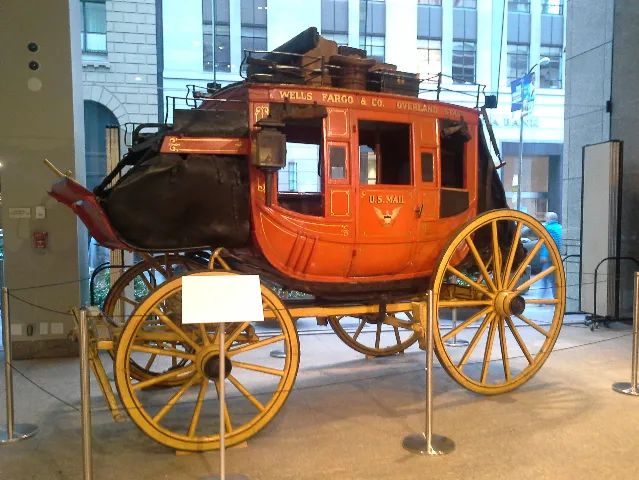 Weekly Gem #12 Seriously, try to visualize this ride
Published 2/28/2015
Location:  This 'hidden gem' is near the intersection of Montgomery and California in downtown San Francisco, CA.  (see Clue Me! beta map ).  At risk of sounding repetitive, seriously, try to visualize this ride.  So many people, so few showers.  A smattering of dust, humidity, bumpy trails.  Are we there yet?
Clue
"I get to ride shotgun!"
Description
A Wells Fargo museum that brings history to life. Imagine, it's 1858, and you're riding in a stagecoach from St. Louis to San Francisco - a journey that takes 21 days and nights.
Why It's Interesting
You get to see a genuine Wells Fargo stagecoach, and see an actual "shotgun seat" from which the expression "riding shotgun" came. Learn about the "treasure box", the outlaw (and poet!) Black Bart, and take a virtual stagecoach ride with Charles Dickens and Samuel Clemens. And yes, Fargo, North Dakota was named after William G. Fargo.