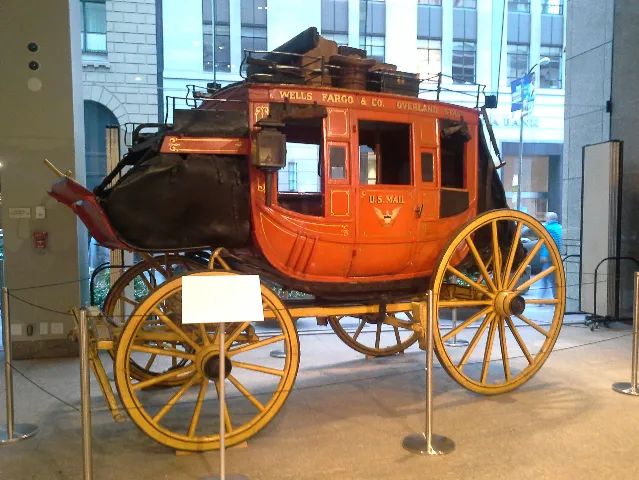 Weekly Gem #12 Seriously, try to visualize this ride
Published 2/28/2015
Location: This 'hidden gem' is near the intersection of Montgomery and California in downtown San Francisco, CA. (see Clue Me! map). So many people, so few showers. A smattering of dust, humidity, rutted trails. Are we there yet?
This old stagecoach (in a Wells Fargo bank lobby in San Francisco) carried passengers between St. Louis and San Francisco. One neat thing about this particular coach is that you can get right up close, and put your head into the sardine compartment.
Picture a Toyota Corolla. One 'padded' board in place of the back seat and another up against the dash facing backwards. Each bench can hold three people.
So, six people, 21 days. Doable in a pinch. Guess what? The passenger capacity was nine!
The cheap seats consisted of a fold down board that came down right in between the two benches. Those three people in the middle couldn't even sit back, or they'd fall over into their neighbor's lap.
And thank God for the tendency to become 'nose blind!'
This coach carried money as well, and was protected by the person who was 'riding shotgun' (which was the origin of that phrase). Based on what we learned at this bank, that may have been the best seat in the house.
...........
Here's the entry from our Clue Me! map.
Clue
"I get to ride shotgun!"
Description
A Wells Fargo museum that brings history to life. Imagine, it's 1858, and you're riding in a stagecoach from St. Louis to San Francisco - a journey that takes 21 days and nights.
Why It's Interesting
You get to see a genuine Wells Fargo stagecoach, and see an actual "shotgun seat" from which the expression "riding shotgun" came. Learn about the "treasure box", the outlaw (and poet!) Black Bart, and take a virtual stagecoach ride with Charles Dickens and Samuel Clemens. And yes, Fargo, North Dakota was named after William G. Fargo.