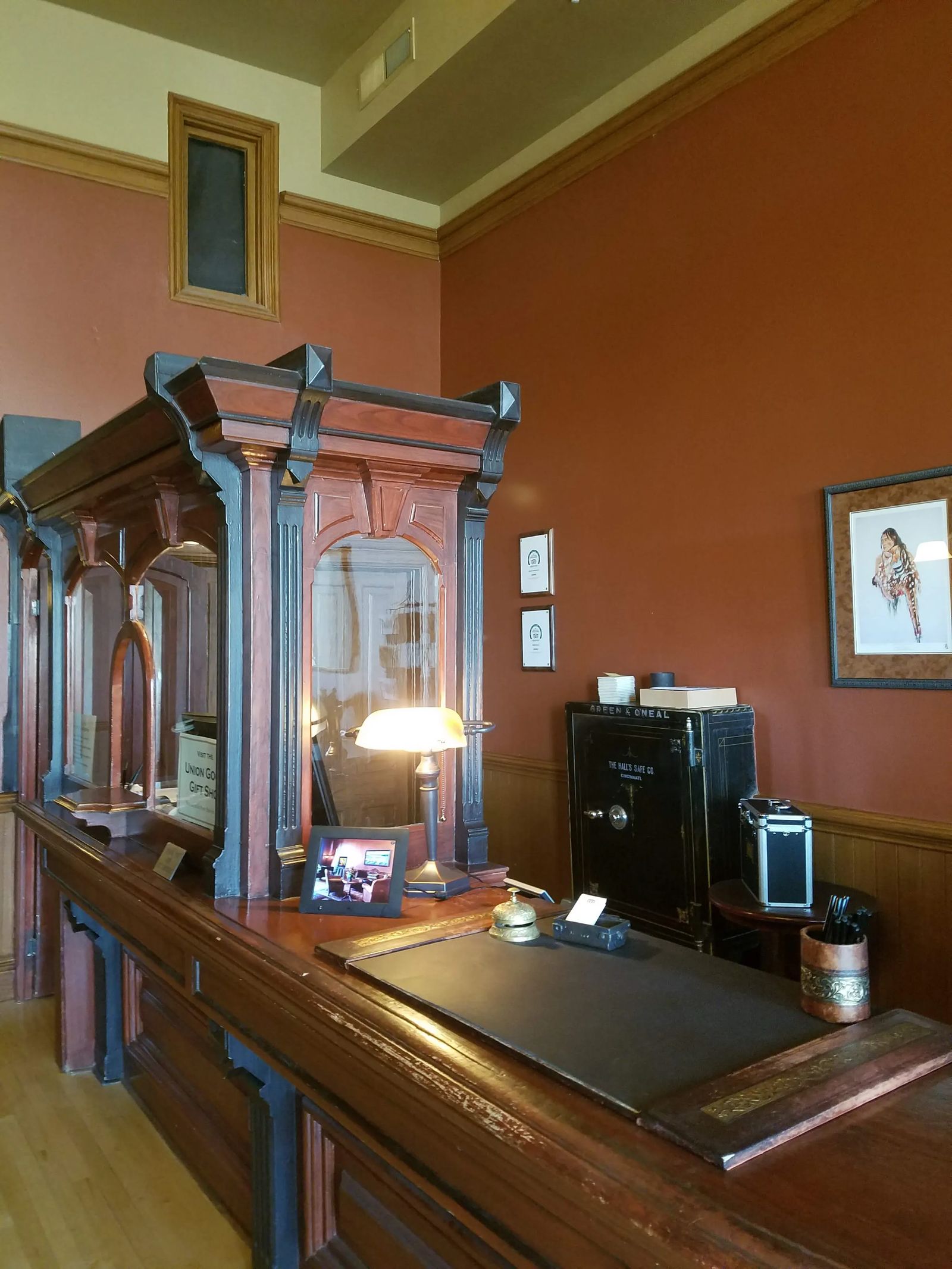 Weekly Gem #255, Timing is everything!
Published 5/15/21
Location: This Hidden Gem in an unobtrusive window that looks out over the Grand Union lobby in Fort Benton, Montana (see the Clue Me! Map). Fort Benton is a small, out-of-the-way town in northern Montana. But in the years after the Civil War, it was a major crossroads for all points northwest. People seeking their fortunes in Montana, Idaho, and Canada took the steamboat up the Missouri as far as they could … which was Fort Benton.
Seeing a great business opportunity, some investors built the Grand Union Hotel, "the finest hotel between Chicago and Seattle." Built in 1882 during Fort Benton's heyday, it was designed with elegance and glamour to serve the most distinguished guests.
People and supplies arrived, and furs and tons of gold(!) left.
The hotel was considered both secure and discreet. Millions of dollars worth of gold was kept in the hotel safe while waiting for the next steamboat to St. Louis and points east. For example, one steamboat left with 2 ½ tons of gold dust valued at $1,250,000. At that time, it was the richest cargo ever to travel down the Missouri River.
Of course all this gold and wealth attracted villainous types to Fort Benton. The hotel needed to protect its patron's good stuff, but without overtly posting guards. A window overlooking the lobby was built. This way a watchman could covertly guard the lobby!
Unfortunately for Fort Benton and the Grand Union Hotel, the railroad came to Helena the very next year, and steamboat traffic dried up.
That was the end of the 'heyday,' but Fort Benton and the hotel remain rich in history, and a beautiful place to experience some Big Sky.
.........
Here's the hidden gem entry from our Clue Me! map.
Clue
I spy with my little eye...
Description
A window overlooking the hotel lobby.
Why It's Interesting
This window was used by guards keeping watch over "treasures" like gold and payroll shipments kept in the hotel safe.