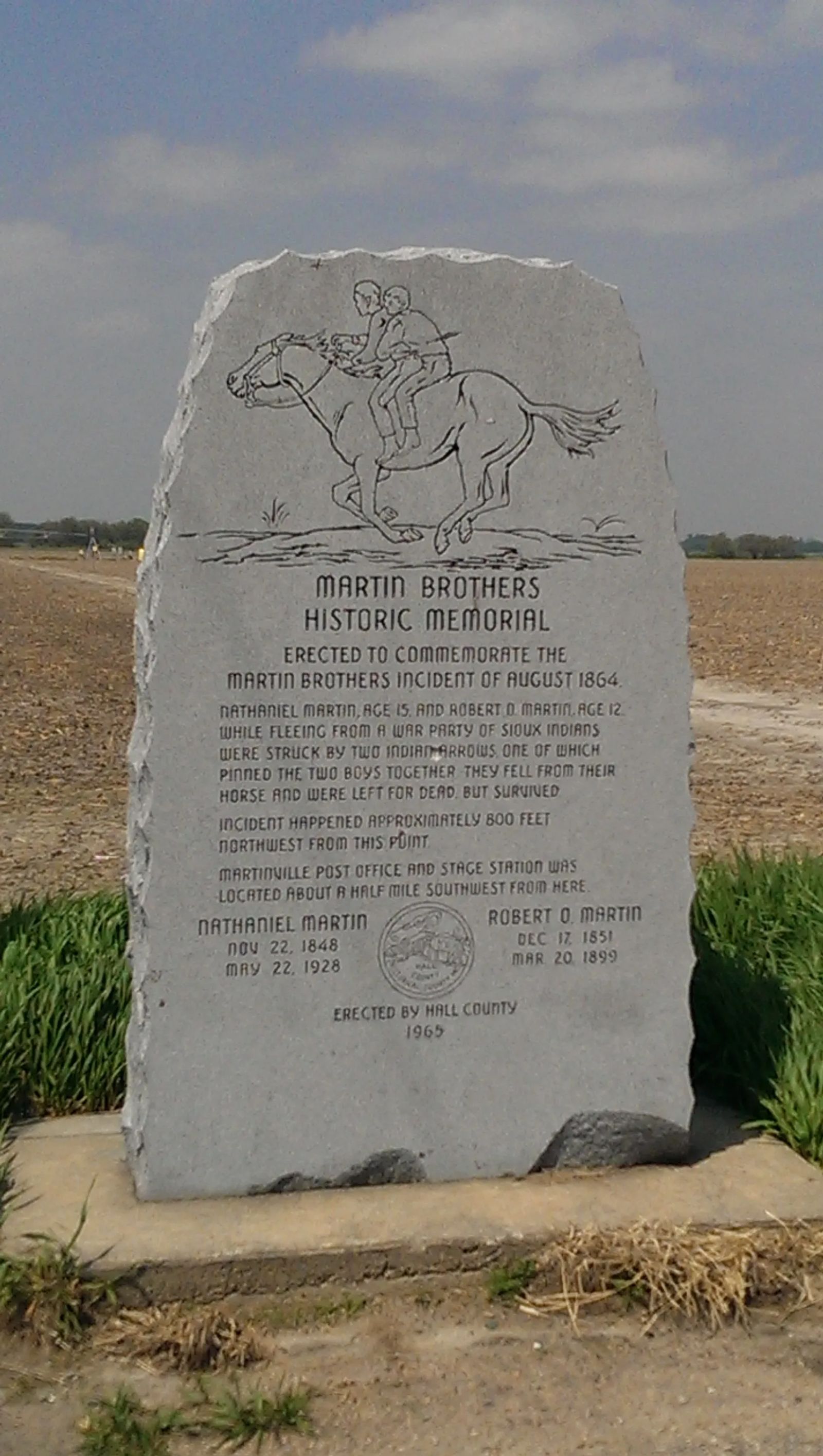 Weekly Gem #130 The Martin brothers "incident" of 1864
Published 8/20/2017
8/20/2017
Location: This 'hidden gem' is located on West Platte River Drive, 7 miles west of Doniphan, NE (see the Clue Me! Map). It marks the location of a harrowing ride taken by Nathanial and Robert Martin (ages 15 and 12, respectively). They and their father were putting up hay in mid August, had loaded two wagons and were headed back to their homestead three miles away when a band of Sioux attacked.
A life sized sculpture (see photo below) by David Biehl nicely conveys the concept of 'run for you life,' right down to the body language and facial expression of the pony (can be found in both Hastings and in Grand Island NE). The story of this encounter, and surprising survival, was recounted on their father's "find a grave" web site description, and is shared in part below.
" ... In 1864 they made an attack on the south side of Platte River. Mr. Martin and his sons, Henry Nathanial and Robert, were hauling hay and were about three miles from home. Mr. Martin was on the first load, had a six-shooting rifle and being first attacked could do but little on account of being on the hay. He was wounded severely. The spy on the bluff then pointed out the boys, who were following on the second load of hay drawn by a yoke of oxen, with a horse in the lead behind the load. When the attack was made on the boys they unhitched and turned the oxen loose. Henry put his brother, Robert, on the horse and then got on behind. When about a quarter of a mile from the house the Indians closed in. Henry received an arrow between the shoulder blade and back bone, which came out on the right side of the breast and penetrated his brother. He then received an arrow shot in the right arm, and his brother, Robert, was shot in the hip and thigh. They rode until Henry became dizzy, fainted and fell from the horse which also becoming tangled in the lines came to the ground. The Indians struck Robert and finding that he did not move supposed both were dead, and spoke of scalping them but changed their minds and said "Pappoose's scalp no good." Finally they left. When the arrow was drawn from Henry's arm he fainted and did not come to himself until en route with the family for York. He refused to go farther and after remaining there one week returned to the ranch, driving a team back. Within two weeks he was again at work."
.........
Here's the hidden gem entry from our Clue Me! map.
Clue
A harrowing ride
Description
A marker near the location of the Martin Brothers "Incident"
Why It's Interesting
This is very near the spot where the two Martin brothers were chased by Sioux and Cheyenne warriors, took a few arrows (including the one that famously pinned them together), and lived to tell about it.