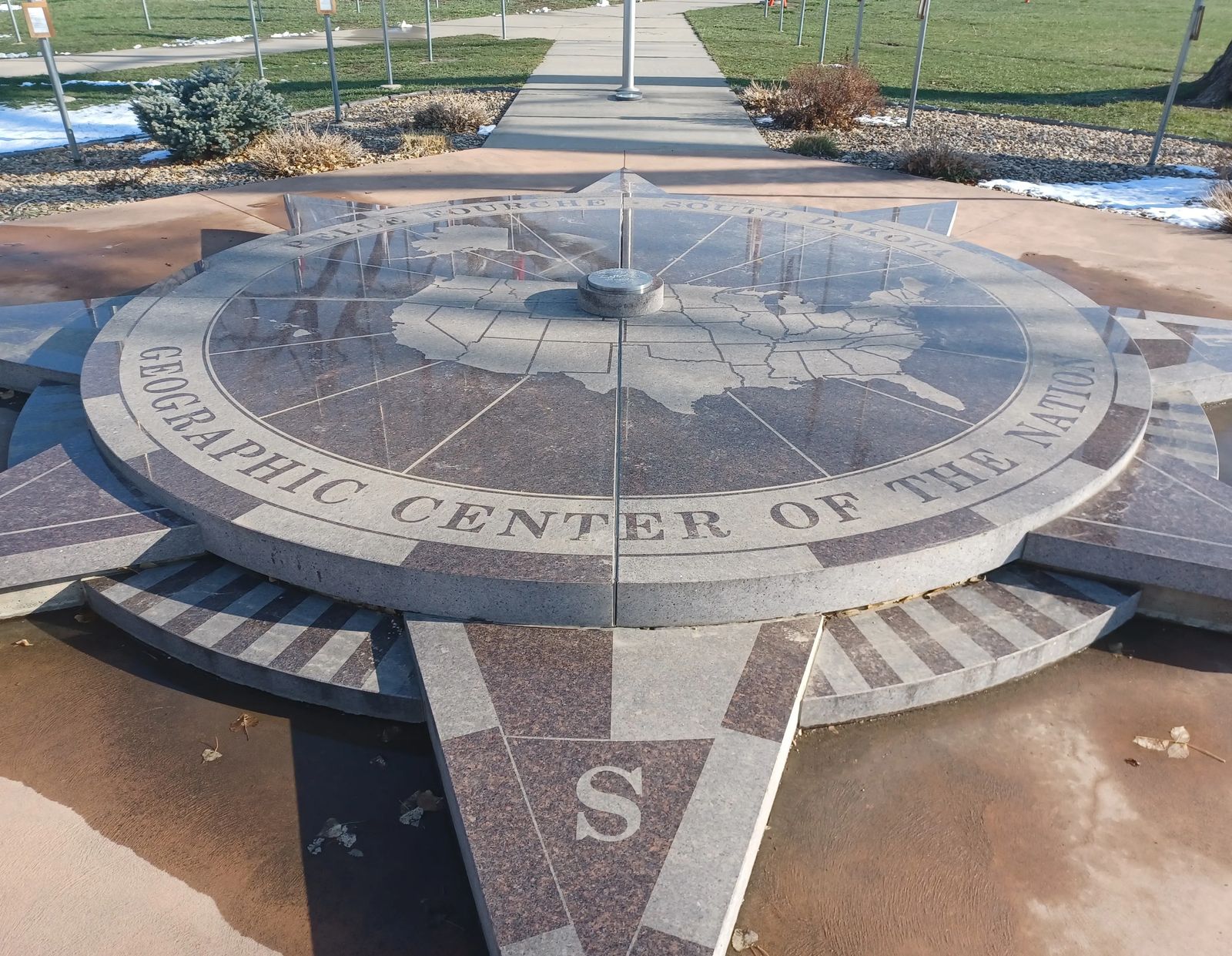 Weekly Gem #271, In the Middle of Somewhere
Published 5/21/22
Location: This Hidden Gem is located at the intersection of the CanAm Highway and Faulk St., in Belle Fourche, SD (see the Clue Me! Map). Here you can visit the "Geographic Center of the Nation Monument." This point is the center of the United States, including Alaska and Hawai'i. We're not in Kansas anymore!
If you're like some of us, you might think. "Hmm. That doesn't seem right." Then you might go look at a map of the earth, and sure enough. That doesn't seem right. Using google maps, you can quickly see that the distance from this monument to Caribou, ME is 1,719.69 miles, to Key Largo, FL is 1,879.53 miles, but going west to Utqiagvik, AK is 2,524.84 miles, to Attu Station, AK is 3551.61 miles, and to Kailua Beach Hawai'i is 3,528.37 miles. Clearly this isn't the 'center' if you're measuring from the edges.
"Determining the geographic center of an irregular area on the earth's surface is a precarious business at best." ~~ Oscar Adams
The former Senior Mathematician of the U.S. Coast and Geodetic Survey has described several ways someone could determine the center of the U.S. 'Distance from the edges' is one, but this Belle Fourche location is based on the 'Center of Gravity' method. If you were somehow able to snug up all of the land area and treat it as a flat piece of cardboard of uniform thickness, then place Belle Fourche on a pin that is underneath the cardboard, the entire country would be in perfect balance. In other words, Belle Fourche is the center, based on weight of that hypothetical piece of cardboard in all directions. (The same calculation for just the contiguous 48 states is in Lebanon, KS)
As you can imagine, there's a certain amount of uncertainty with this math, so the true center is someplace within 4 miles of the calculated center. One thing that is certain … the Center of the U.S. is most definitely not in Belle Fourche, the monument and flags and park notwithstanding. The actual Center of Gravity is at 44°58'2.07622"N 103°46'17.60283"W, about 20 miles north. It's 100 yards east of old U.S. Hwy 85, plus or minus 4 miles in any direction.
.........
Here's the hidden gem entry from our Clue Me! map.
Clue
Central park?
Description
The monument that marks the geographic center of the U.S.
Why It's Interesting
The addition of the states of Hawai'i and Alaska moved the geographic center of the U.S. to Belle Fourche, or at least close. The exact center is uncertain, although it's more likely to be 20 miles north than right on this monument.