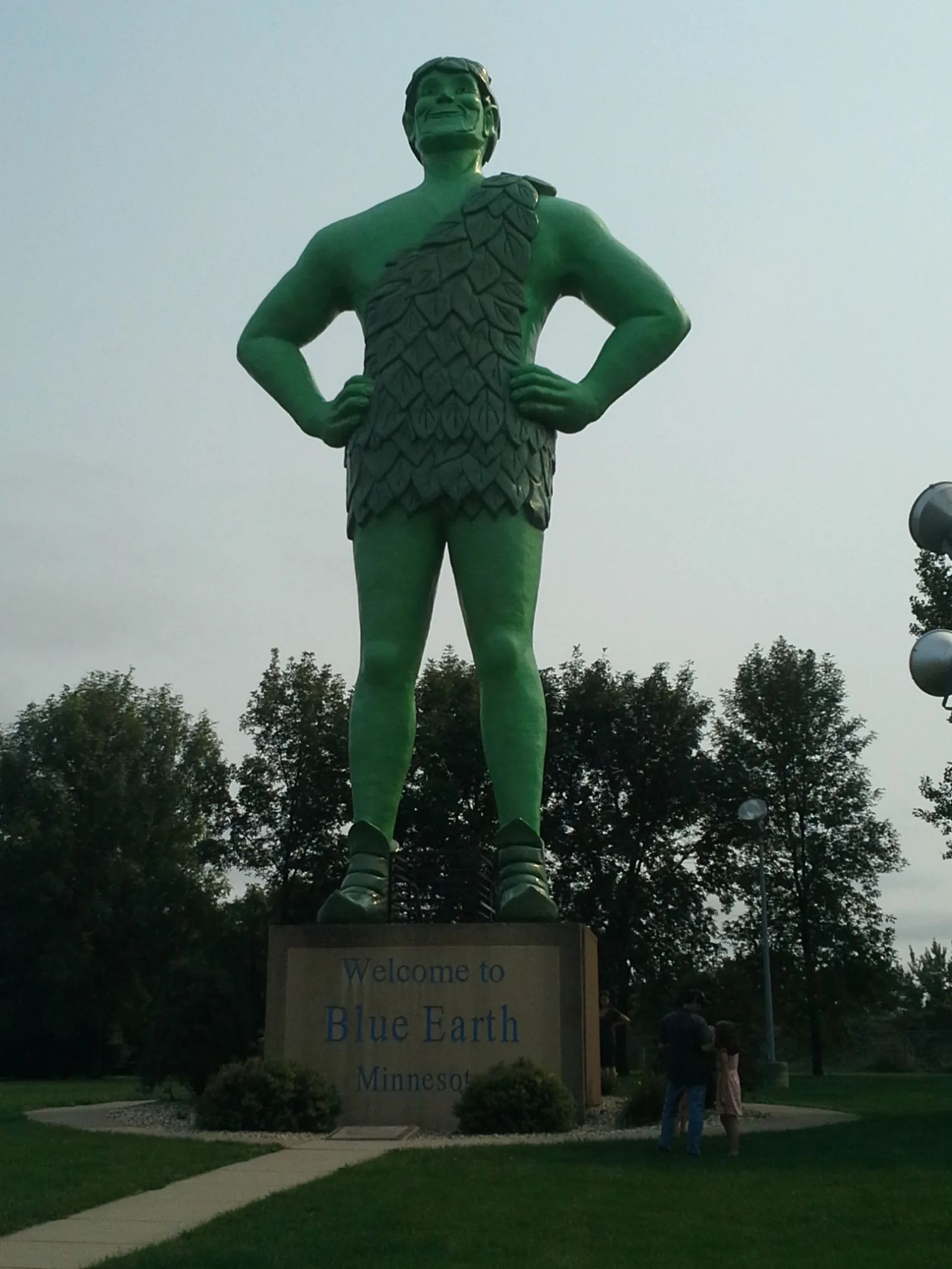 Weekly Gem #83 Grimm Ogre vs. Jolly Green Giant
Published 8/14/2016
Location: This 'hidden gem' is located near the intersection of Green Giant Lane and Giant Drive in Blue Earth, MN (see Clue Me! Map). This giant green fellow came about gradually.
At first he was just a name. In the early 1900s, canning of vegetables was new, and the Minnesota Valley Canning Company had been using a small pea for all of its canning. The varieties of large peas that were available at that time were too tough, and not suited for canning. However, a large variety that was also tender and tasty was discovered in the UK, brought to Minnesota, and was soon added to the company's "list" of canned products ... now they had two, a petite pea, and a giant pea. Hmm, what to call it?
Green Giant Peas. The name alone wasn't enough to draw attention to this giant sweet pea, or to get people to try it (since large peas weren't necessarily highly sought). The company decided to add an image to the can to get people to take a closer look. They started with a giant that resembled a mean ogre or troll from one the Grimm fairy tales. That guy conveyed 'tough' and 'chewy' and 'painful,' not necessarily the image that would draw masses of people to try these peas. After a few years, they introduced this pleasing and 'jolly' giant, who provided a much more effective and memorable (and kid-friendly) image of their giant green peas. In fact, this green giant eventually began to represent corn, and other vegetables, and also frozen vegetables. Before long he was far more recognizable than the company itself, so much so that the company changed its name to the Green Giant Company.
........
Here's the hidden gem entry from our Clue Me! Map:
Clue
Ho Ho Ho
Description
Jolly Green Giant Statue
Why It's Interesting
The 55 foot (17 m) statue was the idea of Paul Hedberg. He interviewed visitors to Blue Earth on a radio show called "Welcome Travelers." Children would ask him if they could actually see the Jolly Green Giant! At first this mascot wasn't jolly, green, or giant. He was a caveman in bear skin. (More like the German Grimm fairy tale, "Bearskin"). In 1935, he was revised to be more inviting to consumers. He was made leafy and green, given a smile and the word, "Jolly" was put in front of his name.