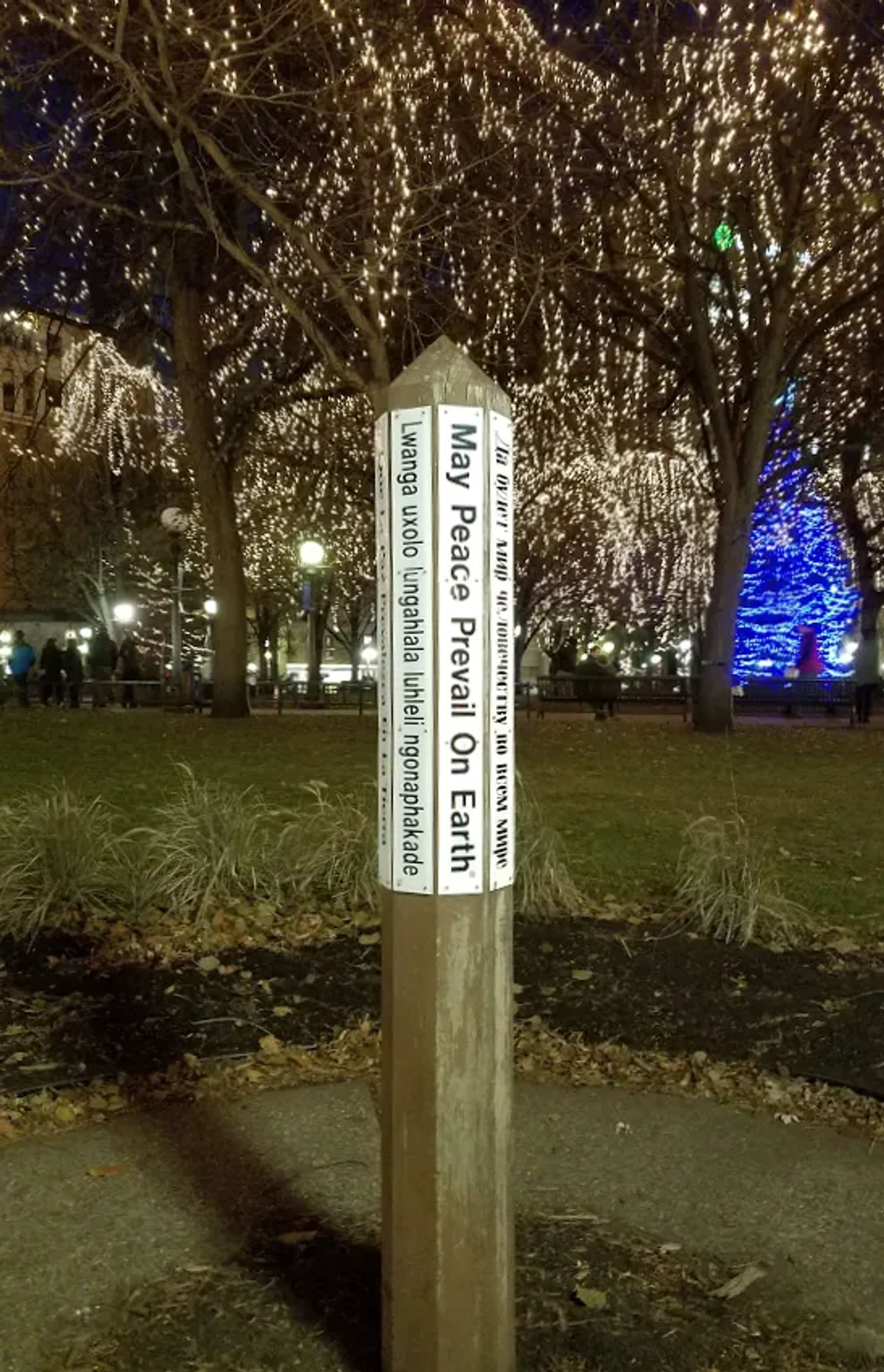 Weekly Gem #144 May Peace Prevail on Earth
Published 12/9/2017
Location: This Weekly Gem is located on the west side of Rice Park, in downtown St. Paul, MN (see the Clue Me! Map).
This Peace Pole is one of thousands that have been placed all over the world. The concept originated with Masahisa Goi. He was a poet, song writer, and singer ... and visionary, from Japan. He believed, "If we put all our thoughts and efforts into the prayer May Peace Prevail on Earth , it will have a uniting and positive effect on all humanity, as the words themselves carry an elevated and harmonious vibration."
New Peace Poles are being placed all the time. Anybody can plant one to inspire peace on earth ... If you want to make your own, here are some translations you might use:
Legyen béke a földön - Hungarian
la malo pea le filemu i le lalolagi - Samoan
Dunidu nabad ha ku waarto - Somali
Che la pace regni sulla terra - Italian (arms must be waving)
برقرار باد صلح در سراسر جهان - Persian
Nahasdzáán Bikáági Táá axtsogóó Hózhǫ́ǫ́ dooleex - Navaho
Go raibh síocháin ar domhain - Gaelic
In fact, you can say "May Peace Prevail on Earth" in every language on earth.
"Imagine all the people living life in peace ...
Some day you will join us and the world will be as one."
~~John Lennon
.........
Here's the hidden gem entry from our Clue Me! map.
Clue
What's said here is what every human being hopes for.
Description
"May Peace Prevail on Earth" written on the Peace Pole.
Why It's Interesting
There are thousands of Peace Poles installed in countries all over the world. Peace Poles are usually hexagonal wooden posts with the inscription 'May Peace Prevail on Earth' in the six official languages of the United Nations. Watch for them in public places.