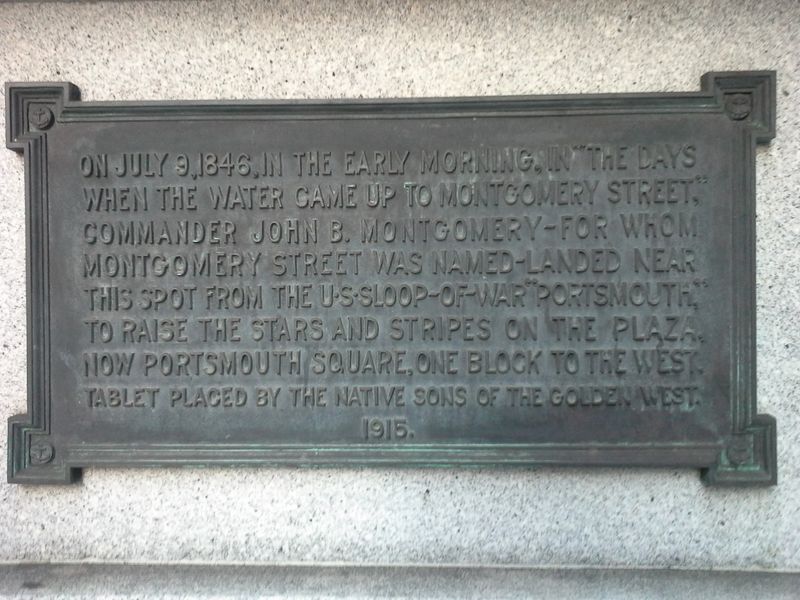 Weekly Gem #29 And if you believe that, I've got water front property for sale in San Francisco
Published 7/11/2015
Location (location, location): This 'hidden gem' is near the intersection of Montgomery and Clay in downtown San Francisco, CA (here's the Clue Me! beta map). It was about this time of year in 1846 that Captain Montgomery came ashore at the tiny village of Yerba Buena, renaming it San Francisco. Of course those first residents laid claim to some prime real estate near the shoreline at this spot, or perhaps further north at the top of the beautiful cliffs overlooking the bay. Then gold was found, and the shoreline was history. You can see on this map how quickly the shoreline moved in just two years after the start of the 1849 gold rush.
Clue
Pier One
Description
A plaque that marks the shoreline(!) where Captain John B. Montgomery of the US sloop-of-war "Portsmouth," came ashore to plant the U.S. flag. July 9, 1846.
Why It's Interesting
The shoreline once ran along Montgomery St. in San Fransisco. The northeast corner of San Fransisco, once Yerba Buena Cove, is now land made from hundreds of abandoned ships! The ships were abandoned by captains and crews as soon as they reached San Fransisco - everybody scattered to find gold. Abandoned ships littered the cove. Some ships were used as warehouses, hotels, and even jails, but most of them were purposely sunk to make more land for the ever-growing population of the forty-niners.
Sponsor
Villainous pickpockets vs. travelers. How can the traveler ever win?!? But now the hero steps in, with a lopsided grin. 130°® satchels are here to protect your good stuff.