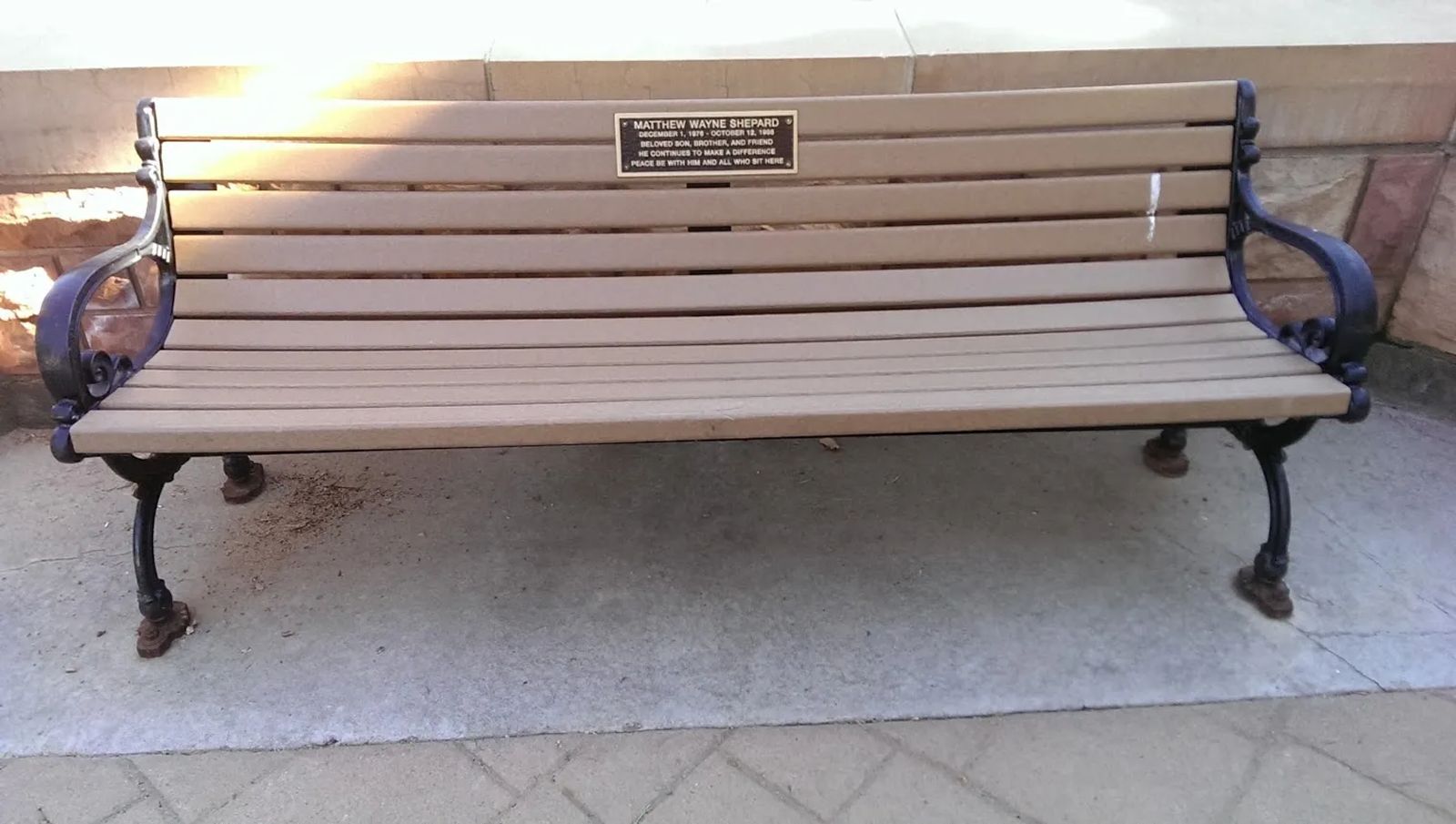 Weekly Gem #95 Peace be with him and all who sit here
Published 11/19/2016
Location
This hidden gem is located on the University of Wyoming campus, between Prexy's pasture and the Arts & Sciences Auditorium (see Clue Me! Map). The Matthew Shepard memorial bench is a perfect place to sit and reflect on the ramifications of intolerance, and how it will inevitably be defeated by remembrance, Peace, and love.
Matthew Shepard's story has been told thousands of times through "The Laramie Project," a play originally produced by the Tectonic Theater Project company, who traveled to Laramie and conducted more than 200 interviews shortly after Matt's death. What emerged was not just Matt's story, but a complicated mosaic of how the people of Laramie responded to this tragedy - of how any town in the U.S. might have responded to this kind of act of hatred and violence. Tectonic Theater created a sequel, "The Laramie-Project: Ten Years Later." One of Matt's friends directed a 2015 movie, called "Matt Shepard Is a Friend of Mine."
There's got to be an easier way to make a point. But it's hard to argue that this heinous act has led to many conversations across the U.S. and around the world about intolerance and bigotry, both toward the LGTBQ community, and toward others who are 'different' (and really, who isn't different?). These conversations are an important step down a long, long road.
In 2009, the Matthew Shepard and James Byrd, Jr. Hate Crimes Prevention Act was signed into law by President Barack Obama. The legislation defined a hate crime as willfully causing bodily injury based on actual or perceived issues of race, color, religion, national origin, gender, sexual orientation, gender identity, or disability.
.........
Here's the hidden gem entry from our Clue Me! map.
Clue
Peace be with him and all who sit here
Description
Matthew Shepard Memorial Bench
Why It's Interesting
Matt Shepard was a gay man, and U of Wyoming student, who was beaten, tied to a fence, and left to die outside of Laramie. He wasn't found until 18 hours later, and survived another 5 days before succumbing to his injuries. This bench seems like a symbol of peace and forgiveness. That is, it wishes peace upon "all" who sit here. I imagine the wish is for people to be at peace with each other, and at peace with themselves.