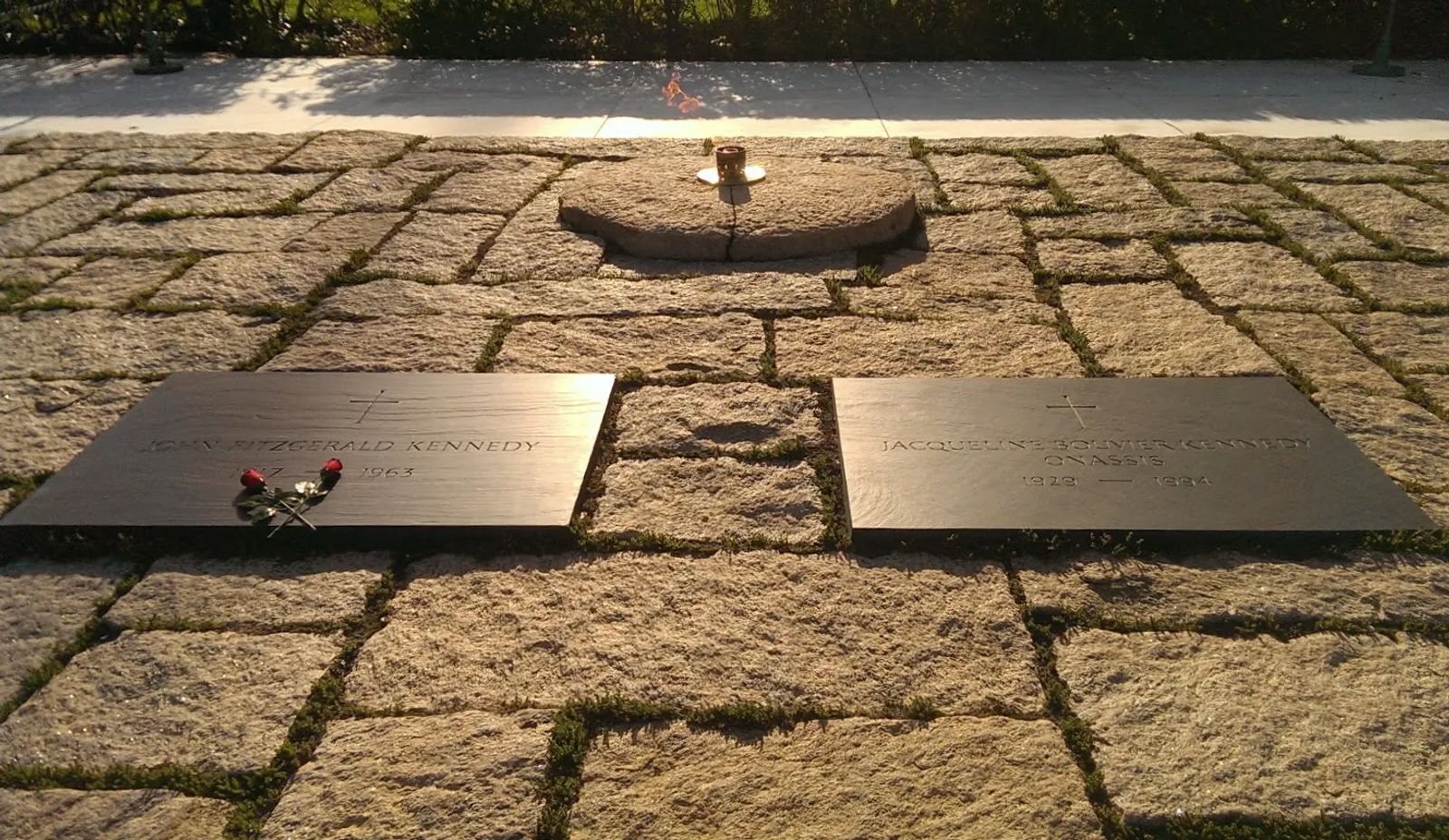 Weekly Gem #96 It was involuntary. They sank my boat.
Published 11/26/2016
Location
This hidden gem is located in Section 45, Arlington National Cemetery (see Clue Me! Map). Everyone knows JFK as a U.S. president, about his assassination on Nov. 23 of 1963, and his burial at Arlington two days later. Less well known is that his grave site at Arlington was earned through his service in WWII, when he distinguished himself in combat. Two actions in particular stand out, both rescues.
The first took place when he commanded Patrol Torpedo 109 (PT109). This was a small, fast boat, with a crew of 13, that was dispatched with a squadron of PTs to disrupt Japanese supply convoys in the Solomon Islands in WWII. They had a first encounter where most of the PTs spent their torpedoes, so headed back to base. Kennedy's PT109 and two others stayed behind, because they still had torpedoes remaining.
A pitch dark night, the Japanese destroyer Amaqiri emerged out of nowhere. Kennedy tried to aim and fire a torpedo, but the destroyer closed too quickly and plowed right through the 109, splitting it in two. The crew couldn't risk firing a flare, so swam to the nearest island, 3 1/2 miles away. Kennedy pulled one of his badly injured crewmen that distance, holding his life jacket strap in his mouth as he swam. Over the course of 6 days, Kennedy shifted his crew to a better island, swam out at night into the straight to try to contact patrolling PT boats, and then swam to a third island where they first observed friendly natives. Those natives eventually brought Kennedy to an Australian coastwatcher who arranged to rescue his crew.
Asked later how he accomplished these feats, his response: "It was involuntary ... they sank my boat."
After all that, they gave him another boat. PT59.
Exactly two months after PT109 sunk, Kennedy was called to support the emergency rescue of several dozen marines. These were part of a force that was making a diversionary landing and attack on a place called Choiseul Island, so that the Japanese would concentrate their defense, and perhaps not be ready for the main attack on a completely different island.
The problem with diversions ... you make a lot of noise, but you don't have back up. In this case, the Marines succeeded in drawing attention, but became surrounded and far outnumbered by the Japanese. The marines were first rescued by a landing craft, which so heavily laden it scraped hard on coral reef and was punctured. They took on water quickly, lost engines, and were sinking, all within range of the Japanese on shore once the sun came up (it being another pitch dark night).
Enter the cavalry, stage right. Kennedy positioned his boat between the shore and the sinking landing craft. They quickly took on the marines and their equipment, and made it back to base (although one badly wounded marine didn't survive the trip).
Kennedy's military decorations include the Navy and Marine Corps Medal, Purple Heart, American Defense Service Medal, Asiatic-Pacific Campaign Medal with three 3/16" bronze stars, and the World War II Victory Medal.
.........
Here's the hidden gem entry from our Clue Me! map.
Clue
Three letters
Description
JFK's grave site
Why It's Interesting
JFK is one of only two U.S. presidents buried in Arlington Cemetery. Just 11 days before his assassination, JFK visited the Arlington House a short distance up the hill, and commented on the magnificent view. His grave is positioned directly on a line between the Arlington House and the Lincoln Memorial. From the JFK grave, you have a similar view, but it has the effect of looking through the cemetery rather than over it.