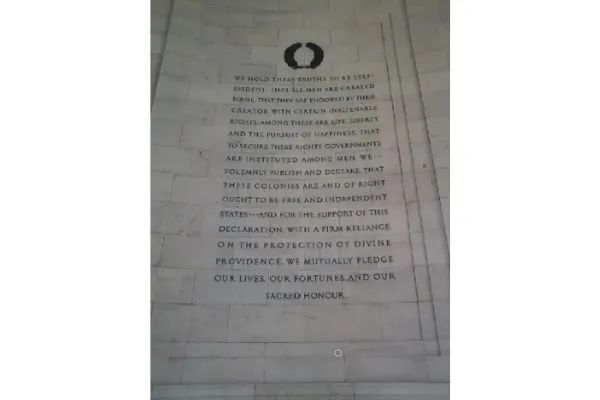 Weekly Gem #28 We mutually pledge our lives, our fortunes and our sacred honour.
Published 7/4/2015
Location:  This 'hidden gem' is inside the Jefferson Memorial in Washington, DC (see Clue Me! beta ).  This is a perfect example of how gems may be hidden within the most famous of landmarks.  Most everyone visiting DC will find their way to this memorial.  This gem encourages them to notice, and think about, the very words that that are the foundation of our country.  We especially like how this gem emphasized the mutual pledge, which was found at the end of the Declaration, but without this
We especially like how this gem emphasized the mutual pledge.  Being found at the end of the Declaration, this could easily be overlooked if people focus on the goals of 'life, liberty, and the pursuit of happiness.'
This gem reminds us that the goals are unreachable without the willingness to also sacrifice, and to do so together.  It is also a reminder that this pledge, this solemn promise, must be renewed by each person.  Each U.S. citizen for sure, but ideally, every person who visits from anywhere in the world.
One of our secret reason's (very hush, hush!) for building this map of hidden gems is to help people gain a better understanding of their own history and culture, and that of others.  Understanding ourselves and our neighbors may contribute, at least a little bit, to peaceful coexistence.  Imagine Peace.  It isn't hard to do.  This gem helps us achieve our secret goal, and is, without a doubt, the type of gem we want people to find, and share, using Clue Me!
Clue
A Declaration's beginning and end
Description
Highly impactful excerpts from the Declaration of Independence
Why It's Interesting
Our nation's founders Mutually Pledged their Lives, their Fortunes, and their Sacred Honour, to protect the rights of all Americans to Life, Liberty, and the Pursuit of Happiness.
Sponsor
Pickpockets fail. Travelers smile. 130°® satchels are here to protect your good stuff!