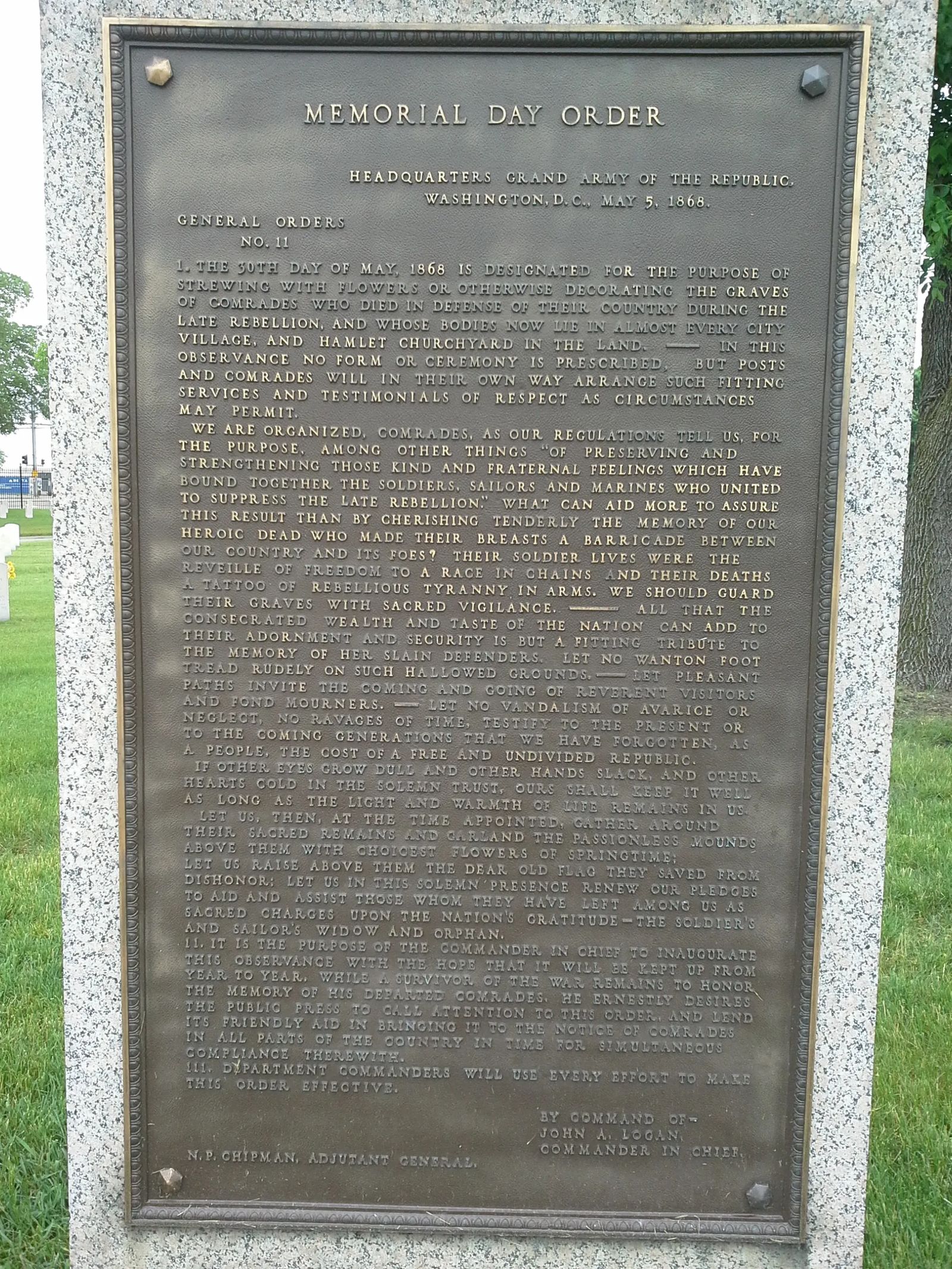 Weekly Gem #119, For the purpose of strewing with flowers or otherwise decorating the graves
Published 5/28/2017
Location: This hidden gem is located in Fort Snelling National Cemetery, near the intersection of Covill Drive and Mallon Road (see the Clue Me! Map). It shows the full text of General Order 11 of the Grand Army of the Republic (a fraternal order of all Union veterans) establishing May 30, 1868 as the first date for "strewing with flowers or otherwise decorating the graves of comrades who have died in defense of their country ... ... with the hope that it will be kept up from year to year." Although gradually evolving as a day to recognize all U.S. veterans, this first Memorial Day Order focused on Union Civil War soldiers.
Interestingly, this "first" Memorial Day in 1868 was more accurately the fourth. It followed the example of Confederate Memorial Day, which was observed (usually) in April by many former Confederate states, beginning in 1866.
Fittingly, both groups decorated graves of soldiers from both sides, showing mutual respect on the way to healing the United States. In fact, the act of former Confederates decorating Union soldier graves in 1866 led Francis Miles Finch to write a poem called "The Blue and the Grey," which included the following:
From the silence of sorrowful hours The desolate mourners go, Lovingly laden with flowers Alike for the friend and the foe; and ... No more shall the war cry sever, Or the winding rivers be red; They banish our anger forever When they laurel the graves of our dead!
.........
Here's the hidden gem entry from our Clue Me! map.
Clue
For the purpose of strewing with flowers or otherwise decorating the graves
Description
The first Memorial Day Order
Why It's Interesting
The first Memorial Day took place about 3 years after the end of the Civil War, and was designed to honor the Civil War dead. This monument has the full text of the order that went out to military units in 1868, "with the hope that it will be kept up from year to year."
A word, if you please...
Pickpockets fail… Travelers smile… 130°® bags are here to protect your good stuff!
Buy once, love forever. Tilley Endurables are made with Canadian persnicketiness.