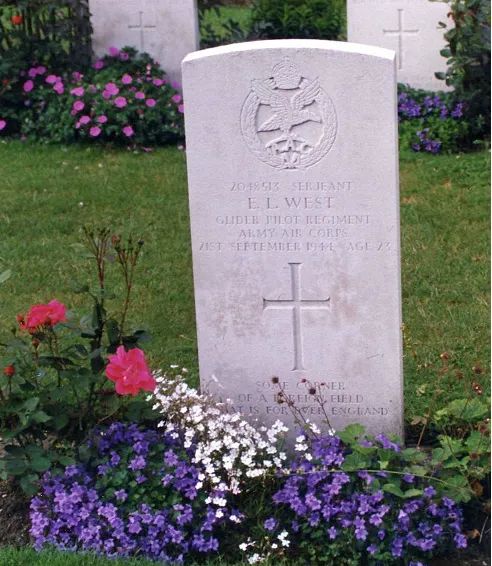 Weekly Gem #23 Their Name Liveth For Evermore
Published 5/24/2015
Location: Some corner of a foreign field that is for ever England. This 'hidden gem' is in the Airborne War Cemetery, in Oosterbeek, The Netherlands (see Clue Me! map). Oosterbeek is just west of Arnhem.
There's a book called "A Bridge Too Far" (also a movie) describing World War II operation Market Garden whereby airborne troops would simultaneously capture several bridges in Holland, creating a path for the Allies to do an 'end around' into Germany. The path led into the lightly defended northern part of Germany, and could shorten World War II by several months. The problem was that Holland had several rivers and canals blocking the path to Germany. The solution was to drop in paratroopers to capture all of the bridges, and hold them 'for a couple of days' while reinforcements pushed through German-held areas in between to link up all the bridges as quickly as possible.
Arnhem / Oosterbeek was the bridge too far. The British 1st Airborne Division, joined by the Polish 1st Parachutists Brigade were tasked with capturing and holding the Arnhem bridge across the Rhine river. Unable to do that, they tried to hold a location at Oosterbeek that might be used to cross the Rhine. They fought on for 8 days instead of the expected 2 days. Their light weapons against tanks. Lack of food, ammunition, and medical supplies (most of the air-dropped supplies landed in German-controlled territory). Eventually they were forced to withdraw, and the operation ended with Arnhem still in German hands, the 'end around' no longer viable.
The book tells the facts, explaining the heroism and sacrifice. You should read it if you're visiting Holland. But to understand the appreciation felt by the Dutch people for these young men, you should visit this cemetery. The markers are literally enveloped within flower gardens. Most markers have a name, unit, the soldier's age, and a short epitath.
On your way to Sgt. West, Glider Pilot Regiment, Age 23, you will see others, such as ...
Flight Lieutenant Lord, Royal Air Force, Age 30. "Greater love than this no man hath, that a man lay down his life for his friends."
Z J Zjawin, Polish Forces, Age 22 (no epitath)
A Soldier of the War. Known Unto God.
Private Woodrow, The South Staffordshire Regiment, Age 29. "Oh heavenly star, shine on this grave, of one we loved, but could not save."
It's a small cemetery in size, but I think most people who walk out are different from when they walked in.
.........
Here's the hidden gem entry from our Clue Me! map.
Clue
Some Corner Of A Foreign Field That Is For Ever England
Description
Sergeant E. L. West's grave marker
Why It's Interesting
Poignant doesn't quite capture this marker / cemetery for British and Polish paratroopers who fought to capture a Rhine River crossing at Arnhem during World War II. Arnhem's was the last of a series of bridges that, if they could be captured together, would liberate Holland and open a corridor into Germany. The paratroopers fought heroically, but futilely. Their relief never arrived. This cemetery is beautifully cared for, testifying to the gratitude by The Netherlands for those who tried.