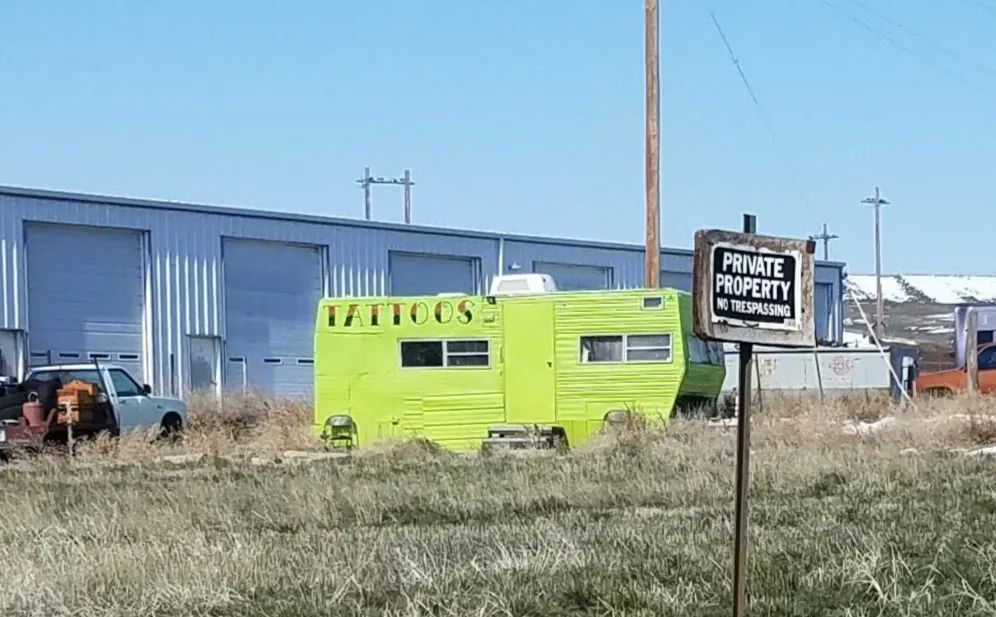 Weekly Gem #270, No Regerts
Published 5/7/22
Location: This hidden 'gem' is located near Sturgis, SD. The No Trespassing sign isn't really serious, just a bit of a barrier to make sure people are ready for a session of painful artistry. But the bright color and comfortable waiting room makes it clear that you are welcome here!
"Tattoo" is one of the most commonly misspelled words in the English language. Tattoo artists have had some infamous misspellings as well, such as "No Regerts", "I'm Awsome" and "Sweet Pee." The fact that Tattoo is spelled correctly on this particular parlor is a good sign.
And though it may not be your first thought when passing by this gem, note that the operator is following in the footsteps of some of the earliest artists in human history. Tattoos have been around ever since people realized they could make permanent designs on their bodies by rubbing soot onto pricked skin. We know tattoo art has been practiced for at least 5,500 years, thanks to the emergence of mummified individual who was preserved in a glacier in the Austrian Alps. At the time of his death, 3,300 BC, he had 57 tattoos on various parts of his body.
And although this parlor is somewhat nondescript, it seems that most everyone comes out feeling awesome, and with no regrets. Mum's the word with respect to sweet pee.