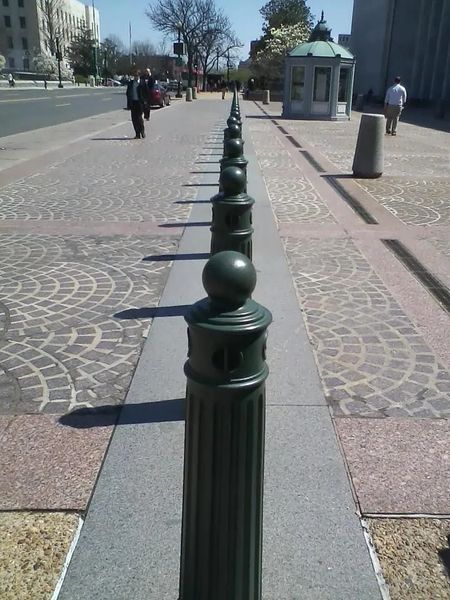 Weekly Gem #7 Mr. Monk Goes to the Library of Congress
Published 1/24/2015
Location:  This 'hidden gem' is southeast of the Capital Building in Washington, DC  (see Clue Me! beta map ).  We like this interesting accidental occurrence, which anyone can see in passing, but which only Adrian Monk and a few like-minded individuals would ever notice.  This is clearly the sort of gem you would never find in a travel guide, which would only take a few seconds to see as you're passing by, and is a type of gem we want people to help us find and share.
Clue
Mr. Monk Goes to the Library of Congress
Description
Touch ... touch ... touch ... touch ... .... ..... tilt. If you've watched Monk and you look carefully you'll understand.
Why It's Interesting
The posts are perfectly aligned, save for the 5th in line, which is slightly askew. While poor Mr. Monk would be twitching at the slight aberration, it also serves to highlight the perfection and care and pride with which some people did their work.