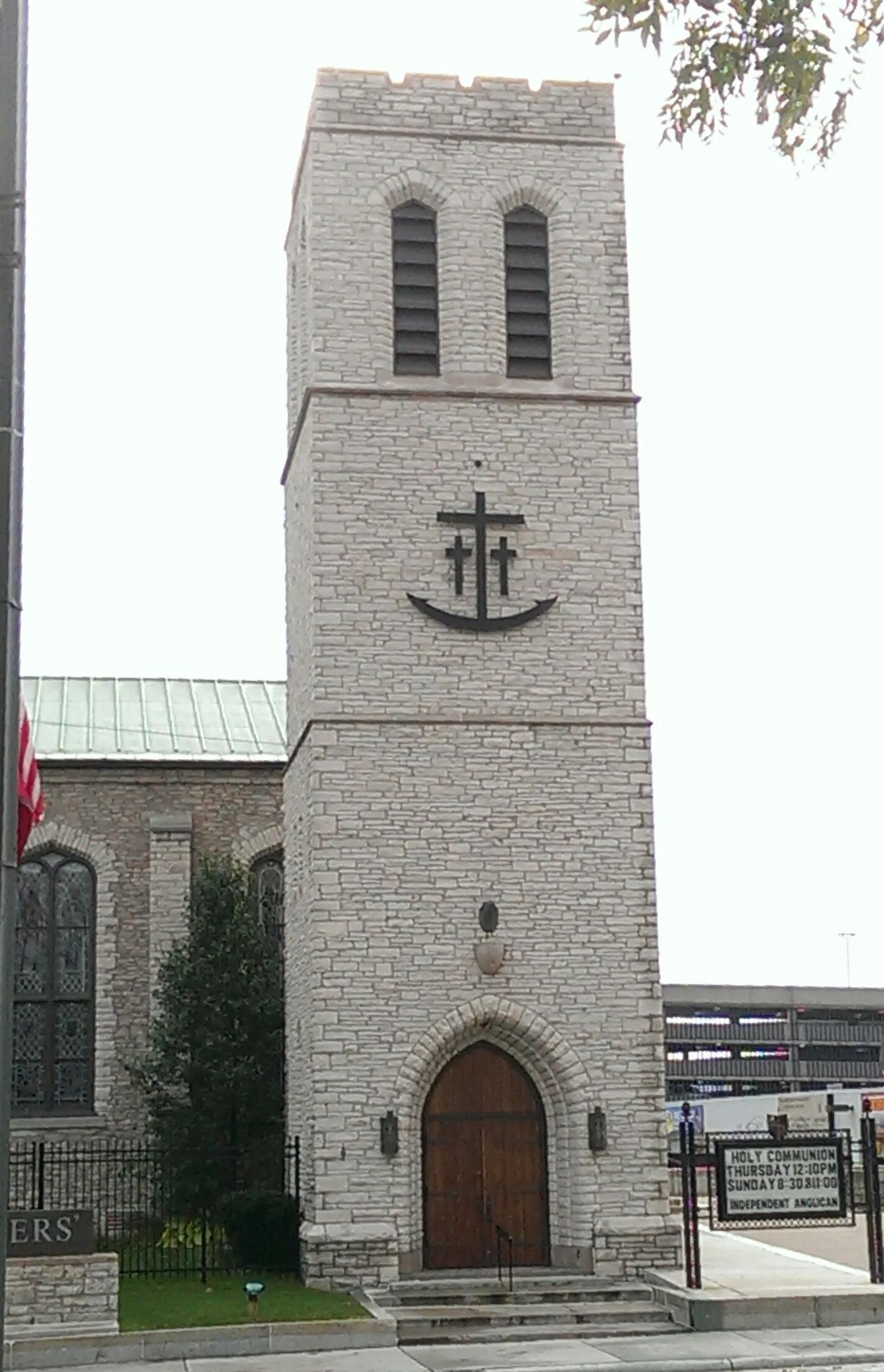 Weekly Gem #46 The church bell chimed 'til it rang twenty nine times
Published 11/7/2015
Location: This 'hidden gem' is the Mariners' Church bell tower, located at the intersection of Jefferson and Randolph in Detroit, MI (see Clue Me! map). The cross resting on an anchor is one of several reminders that the church was originally founded as a place of worship for mariners.
"Does anyone know where the love of God goes,
when the waves turn minutes to hours?" ~ Gordon Lightfoot
This week, these church bells will chime again, marking the 40th anniversary of the sinking of the Edmund Fitzgerald (November 10, 1975).
On her final voyage, "The Fitz" was heading back home to Detroit, and went down in a gale on Lake Superior. The Fitz was in radio contact with the Avafors and the Anderson (which was following about 10 miles behind).
At about 6:00 pm, Captain McSorley of radioed:
"I have a bad list, lost both radars. And am taking heavy seas over the deck. One of the worst seas I've ever been in."
About 6:55 pm, on the Anderson:
The captain and men in the Anderson's pilothouse felt a "bump," felt the ship lurch, and then turned to see a monstrous wave engulfing their entire vessel from astern. The wave worked its way along the deck, crashing on the back of the pilothouse, driving the bow of the Anderson down into the sea. "Then the Anderson just raised up and shook herself off of all that water - barrooff - just like a big dog. Another wave just like the first one or bigger hit us again. I watched those two waves head down the lake towards the Fitzgerald ..."
The next morning, November 11, 1975, Bishop Rector Ingalls, Sr., rang the bells in memory of those who were lost.
"In a musty old hall in Detroit they prayed
In the Maritime Sailors' Cathedral
The church bell chimed 'til it rang twenty-nine times
For each man on the Edmund Fitzgerald" ~ Gordon Lightfoot
.........
Here's the hidden gem entry from our Clue Me! map.
Clue
The church bell chimed 'til it rang twenty-nine times
Description
The bell tower of the old mariners' church
Why It's Interesting
This is the bell tower in the 'musty old hall in Detroit' that rang it's bell 29 times, referenced by Gordon Lightfoot in his song about the wreck of the Edmund Fitzgerald. One chime for each man who was lost.