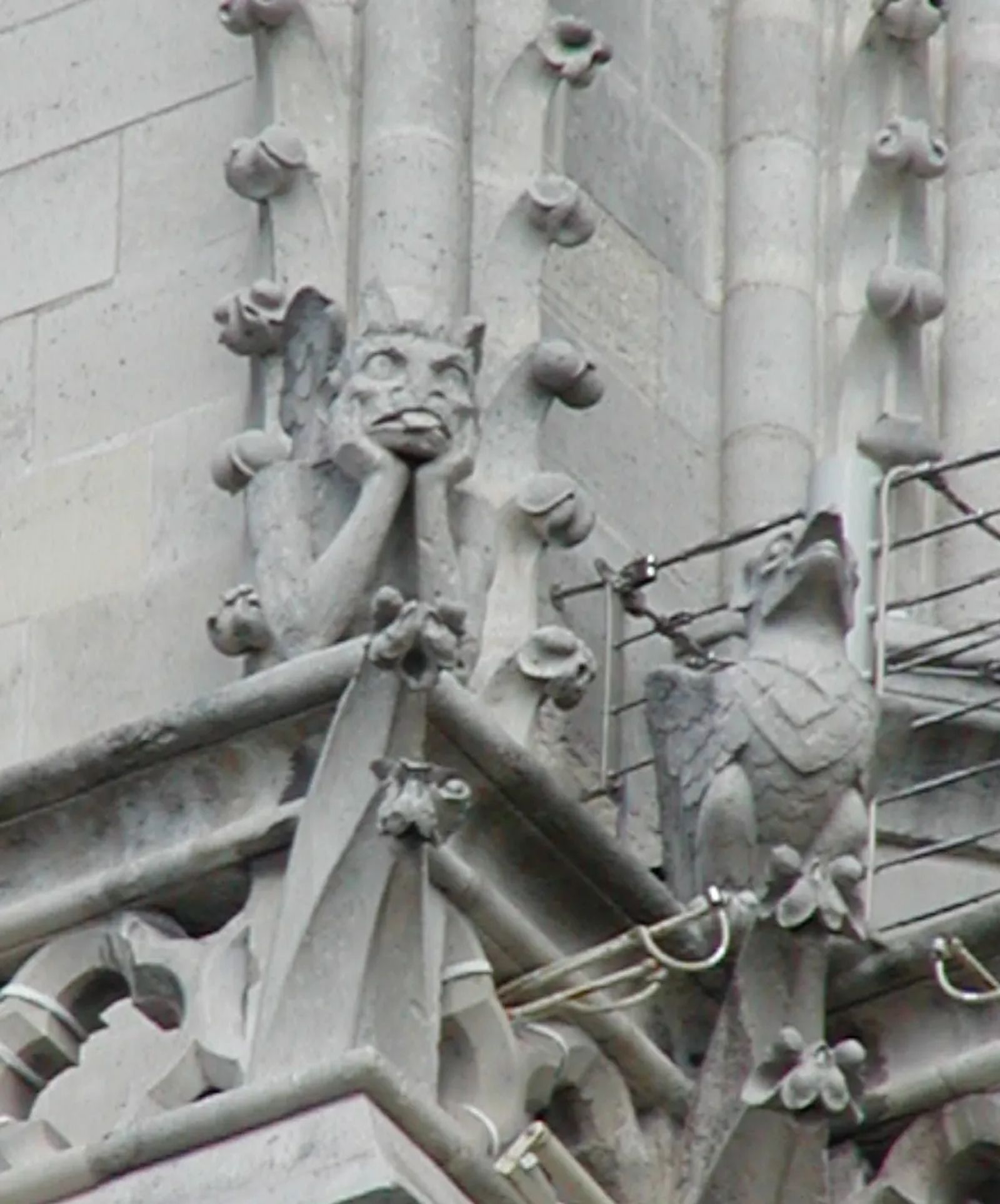 Weekly Gem #193 Seriously disheveled, but still upright, and planning to stay that way
Published 4/20/2019
Location: This hidden gem is located on the bell tower of Notre Dame Cathedral, in Paris, France (see the Clue Me! Map).
While much was lost, initial estimates are that perhaps 85% of the Notre Dame Cathedral and its contents were saved. Perhaps this fellow, and his fellow chimeras and gargoyles, played a role. After all, one of the reasons they adorn the cathedral is to protect and defend.
When first seeing the blazing roof, and the central spire crashing down, a total loss seemed inevitable. But the firefighters split into two groups. Most fought the fire, and indeed kept most of the direct fire damage confined to the roof and central portion of the cathedral. There is a lot of smoke and water damage, but the restoration experts on hand were immediately pointing to zones of protection. Among other major structural pieces, the original Great Organ and the three stained glass Rose Windows that were crafted during the 13th century survived.
The second, smaller group of firefighters, joined with antiquities experts to evacuate treasures, including artworks, statues, and religious objects, all of which were one of a kind, and irreplaceable. This group was described as a well-organized frenzy, working as fast as they possibly could, while the fire burned above.
The "Stryga" shown here is a chimera (meaning that it is an upright statue, rather than a gargoyle, which has the job of diverting rainwater away from the building). He was installed at approximately the same time that the French language gained a new word … défiant.
.........
Here's the hidden gem entry from our Clue Me! map.
Clue
Spitting(?) Gargoyle
Description
The "Stryga"
Why It's Interesting
There are many gargoyles on Notre Dame, but this isn't one. It's a chimera, one of the statues, called grotesques, that are here to protect the cathedral and those within.