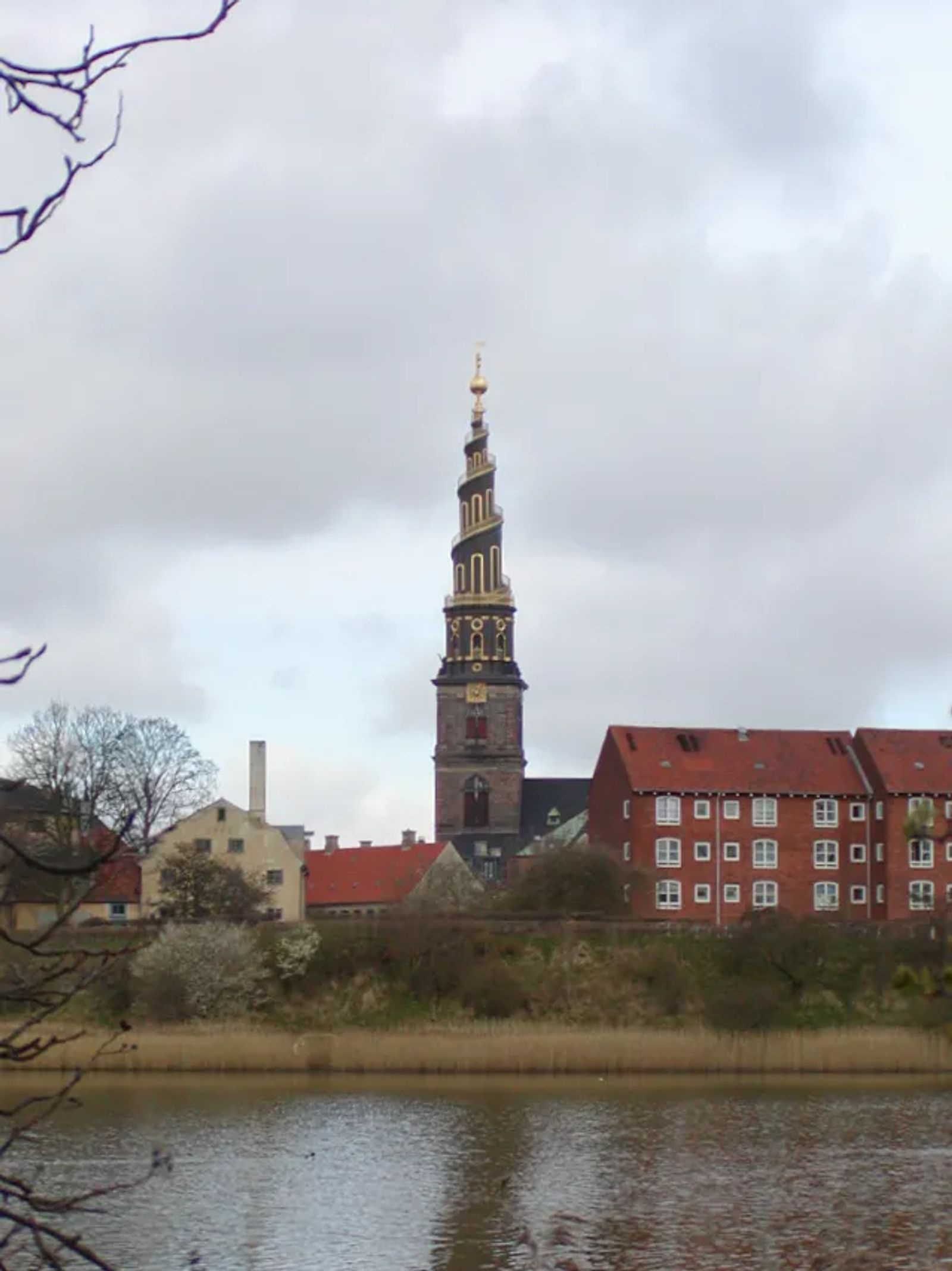 Weekly Gem #79 Aspire to ascend a spire
Published 7/16/2016
Location: This 'hidden gem' is located on the Syddysen, a bit south and east of Christianshavn (in Copenhagen), Denmark (see Clue Me! Map). From here, looking in part across open water, you find one of the least obstructed views from which to enjoy this very unique church and its spire, enwrapped as it is in a spiral staircase.
Beware! After looking from this vantage point, one is inexplicably drawn to experience the church, and the spire, in person. The church is beautiful. Spend some time before the climb to enjoy the breathtaking beauty. Perhaps a prayer would be timely.
Then, if you have the fortitude, start climbing. The first 250 steps are inside, a cobbling together of steep, narrow, twisting, turning, and low ceilings that take you to and through the bell tower. If you're prone to claustrophobia, it might feel a bit tight. But then you reach the platform at the base of the spiral and have amazing views of Copenhagen. It may be best to take pictures now, in case your knees are shaking on your way back down.
Ready? Take a breath, and start on up the spiral staircase. It's pretty reasonable at the beginning, but don't let that fool you. It gets steeper, and narrower, as you climb. The tower is made of wood, and will sway a little bit. No worries, it's been swaying for 270 years. Take a breath. Keep going. If you're prone to acrophobia, it might feel a bit elevated. Keep a grip on the rail and just focus on the beautiful views in the distance, which continuously change as you work your way around and up.
At the top is a tiny platform large enough for one person to stand.
Strictly speaking, this climb isn't for the faint of heart, but if you aspire to ascend a spire, this is a perfect place to give it a whirl.
.........
Here's the hidden gem entry from our Clue Me! map.
Clue
A great view of a place to get a great view of Copenhagen
Description
A spot on the Syddyssen path from which to see the Church of Our Saviour
Why It's Interesting
This is a view from a line of defense fortifications that have survived since 1617. It's a nice perspective of the design and height of the Church's Spire. The spiral design is in fact a spiral staircase, the top 150 steps of a 400 step climb to the top, from which an excellent view of Copenhagen (and of course the Syddyssen defense line) is available.