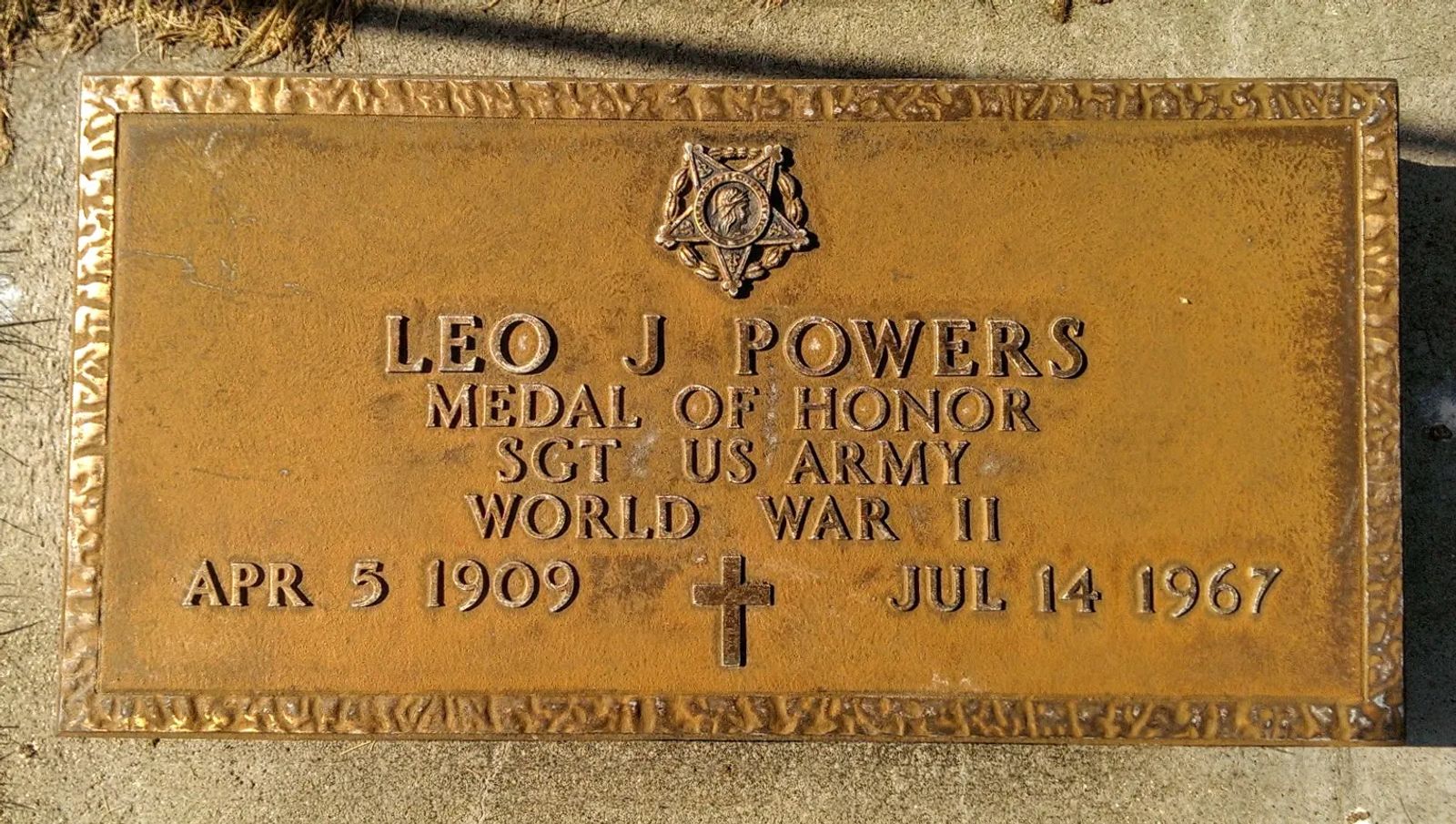 Weekly Gem #214 "Pop" Powers, not your prototype hero
Published 11/11/2019
Location: This Weekly Gem is located in the Holy Cross Cemetery, Butte, MT. (see the Clue Me! Map).
Leo J. Powers was raising sheep in Alder Gulch, Montana, when Pearl Harbor was attacked. He was 32, older than your typical army private. He looked even older, lacking teeth (but a full set of dentures) and gimpy due to foot problems. Nevertheless, when he reported for duty, he made it clear he wanted action. The Army classified him as unfit for combat. You're a mechanic!
Right off the bat he got his nickname. "Pop."
Two years later he was in Italy, engaged in the battle of Monte Cassino. Actually a series of battles over four months for the same piece of ground, this was (for the allies) among the most difficult and costly battles of World War II. It was literally fighting uphill, against heavily fortified German troops.
Within two weeks, casualties in Powers' battalion were approaching 50%. Pop found himself where he wanted to be, on the front line with his boys, dentures and bad feet no longer an issue.
On Feb. 3, 1944, the Army learned something about Pop. He did what needed to be done, and he could throw three strikes.
His unit was tasked to capture "Hill 175." However, shortly after beginning the attack they were pinned down, due to three cement pillboxes that were laying down constant machine gun fire. They couldn't go forward or backward, and they couldn't reach their wounded. Mortars were dropping among them so they couldn't stay where they were.
Pop did what needed to be done. He loaded up on hand grenades, and started crawling, getting to within 15 yards of the first pillbox. He then stood up in full view so he had a good angle at the small opening, and threw two grenades. Strike one. He then crawled toward the second pillbox, "with absolutely no cover if the enemy should see him." He again stood in full view, threw, and dropped before the Germans could draw a bead. Strike two. He then crawled across the entire front of his company to reach the third pillbox. Stand … throw … drop. Strike three.
According to his Medal of Honor citation, Pop Powers "against tremendous odds had single-handedly broken the backbone of this heavily defended and strategic enemy position."
Prototypes are over-rated.
.........
Here's the hidden gem entry from our Clue Me! map.
Clue
Pop Powers
Description
The Grave of Leo J. "Pop" Powers
Why It's Interesting
Although a very understated grave site, the person buried here was a heck of a soldier.