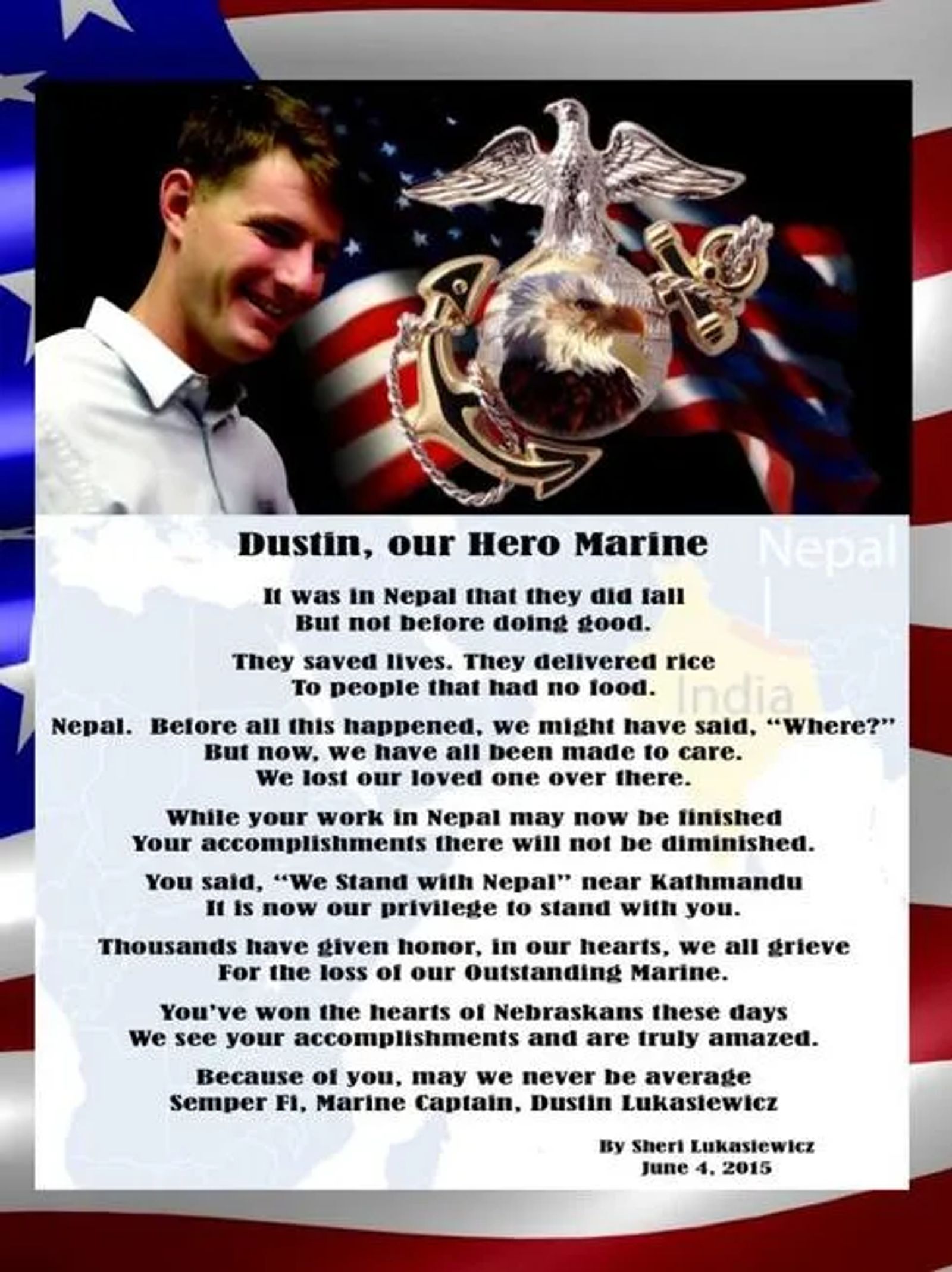 Dusty sampling
5/10/2017
I had the privilege of knowing your father.
He was polite, kind, respectful.
He had a passion and followed his dreams.
One of his dreams was to become a pilot.
I had the great pleasure every time we went to a
Grocery store purchasing a magazine with airplanes in it for him.
He would study that magazine and discuss it in great detail.
Your father was a fine Man.
Becky Rabe
For Izzy and Dusty Jr.,
Hi! My name is Brooke Adam and I am one of your Mommy's friends J
I wanted to write you both to let you know how special your Daddy and Mommy are to me. They are one of the reasons that I met my husband, Levi , who grew up in Nebraska with your Daddy. This letter is in remembrance of him, and is a small thank-you to you all for letting me play a part in your parents' love story.
I remember the day I flew into San Diego, California, to meet Levi for the first time. It was a beautifully breezy evening as we walked out of the airport and headed over to Old Town, San Diego. I was so nervous, but knew that God had brought us together for a special purpose.
Once we arrived at the hotel, I met several of your family members. They were all so anxious and excited to celebrate the marriage of your Daddy and Mommy! The love and acceptance that they surrounded me with, was something that words cannot describe.
Then, the big moment happened—I got to meet your Daddy! I could tell that Levi was nervous, since your Daddy's approval of me meant so much to him. Levi knew that he could never end up with someone that didn't fit into his Nebraskan family. I know that your Daddy felt the same way about your Mommy, too. Luckily, we were both accepted with open arms!
After that, an amazing few days followed- that then continued into one of the best weekends of my life. But of all the special moments that I hold dear to my heart, there is only one that stands above the rest.
It was the moment that your gorgeous Mommy walked into that beautiful church and gracefully glided down the aisle into your Daddy's hands (and heart). It gave me chills to see such a storybook love right before my eyes. I know that it was a moment that touched all who were lucky enough to be a part of it.
I knew then that God had also brought your Daddy and Mommy together for a very special purpose-true love <3 And, through that true love came you two!
Sometimes things happen that we will never be able to understand. Your Daddy going up to Heaven too soon is one of those things.
My heart breaks for you all daily, but I have peace and comfort knowing that he is watching over you from above. I know that he can NOT wait to see you all again (and to finally be able to meet his perfect son)!
Though this letter might take awhile for you to understand, I want you two to know that you have the most loving and selfless Daddy and Mommy. You are so lucky to have such a wonderful family and support system- and we are SO lucky to be a part of your lives!
I know that God placed you all together for a special purpose. That purpose is, also, love.
You and your family mean the world to me (and us). I want to thank your Daddy and Mommy, from the bottom of my heart, for allowing me to be a part of their love story- and yours!
I hope that you, Izzy, can someday be close to our daughter Truly. Your Mommy and I's friendship is something that I feel so lucky to have. I also hope that you, Dusty, can someday be close to our son Tell. It would be so fun for you boys to recreate some of the memories that your Daddy and Levi shared together Nebraska! 
The Adam family will NEVER forget the selfless acts that your Daddy so honorably made. He gave the ultimate sacrifice to our country, for us, and most importantly, for you two and your Mommy.
Please know that we will ALWAYS be here for you and that we love you.
From our hearts to yours,
Levi, Brooke, Truly and Tell Adam
Our memories of Dusty are many, but the best ones involve Dusty's Jr High & High School years in Wilcox. Dusty spent many Wednesday evenings at our home, along with around 20 other kids. We hosted WNF (Wednesday Nite Fellowship), a youth Bible Study, in our home & Dusty was one of our "regulars". When he arrived, he would always make sure to come out to the kitchen, where I'd be putting the finishing touches on the meal for the group. "Hi, Marianne! Need any help?" He would then sit down at the kitchen counter & chat for bit, before heading into the living room or outside, to join the rest of the teens. We could always count on Dusty to be one of the first to volunteer for any project that the group was doing. We knew, too, that if Dusty was in attendance, we'd better know our stuff with the lesson we were presenting. He liked to ask some pretty deep questions. We never had any doubts on how important his faith was to him. He would share his dreams & plans for after high school, with us. They always involved flying and serving our country. He was full of fun, loved to tease, a great role-model, insightful & mature. Oh yeah---and that smile of his! He loved his family and was especially caring & protective of his mom. We will always remember Dusty's strong faith & his dedication. We have no doubt that his legacy as a man, friend, soldier, husband & father will never be forgotten. We feel so honored to have watched him grow into that person.
Bud & Marianne Paben
I remember when Dusty was born. Keith and Cheryl were living on the farm near where we live. Dusty was born exactly one month after our daughter, Katie, was born.
Cheryl had been concerned that Dusty wasn't crawling yet but the pediatrician helped them figure out that Danie had been bringing him everything he wanted so he felt no need to crawl anywhere!
Dusty and Katie became friends because Cheryl and I would get together with other friends and have coffee and the kids would play. They went to pre-school together in Holdrege and that first day, the kids were pretty anxious. I remember hugging both Katie and Dusty as they had some tears and they later figured out it was nothing but fun to go to pre-school! At the end of that year, their teacher had a big program and graduation for them. She had taught them some songs and a dance. My husband's favorite memory was of Dusty and Katie being dancing partners as 4 year olds!
The kids from our area that would go to Kindergarten together came over to our house to get to know each other a little better. Dusty brought his favorite toys, his Ninja Turtle action figures. Well, one of the neighbor girls decided to bury them in our sandbox and we couldn't find them. Poor Dusty left brokenhearted, but not crying. I even helped my daughter try to dig them up but we could not find them and decided that the other little girl must have put them somewhere else.  Years later, when we moved the sandbox, there they were, clear in the bottom! (a deeper sandbox than most) I think Dusty was in high school by then but we gave them to Cheryl with great apologies!
Dusty was always polite, quiet- most of the times that I was around him, funny, (oh, so funny), and seemed to take life's ups and downs in stride. He was such an intelligent young man too which showed when he was Captain of the Quiz Bowl Team. He and my daughter were always friends and with a little nudge from Cheryl, Dusty and Vincent Guthrie offered to give a ride to prom to Katie and her friend Jolene. Not a date, just a ride, which was very thoughtful so the girls didn't have to drive themselves.
He and Katie had both been starters on their basketball teams until Hildreth and Wilcox merged. Then they became substitutes who sat on the bench. That had been very hard to take but Dusty turned it around and during a study hall with Katie, they wrote Rules for Sitting on the Bench. These were hysterically funny but unfortunately we can only remember one of them. It was stating that you should never sit on the crack between the bleachers because then you were more of a loser than you already were! They turned a disappointing time in their lives into one you could smile about for years. (Neither one of them were ever losers!)
I sent a request to Dusty to be his friend on Facebook and was very pleased when he accepted it. I'm his mom's age so I wasn't sure how he'd feel about wanting to be friends on Facebook! I think this was about the time that Dusty and Ashley were getting married. I was so pleased when I received their wedding invitation even though I wasn't able to attend. I loved seeing their pictures and knowing that they were both so happy. I could also tell how happy they were just by the thank you note that I got from Ashley for the wedding gift of money toward buying a house.
Dusty was thoughtful, a great friend, and lots of fun. He will ALWAYS be remembered by all of us who knew him.
Julie Harms
I had the pleasure of knowing Dusty during our shared time in Quantico, Pensacola, and California.  We enjoyed completing flight school, working through life in fleet Marine squadrons, and growing families together.  Some of my favorite memories of him are included below.
  My wife, Lana, and I had Dusty over for Thanksgiving at our house in 2009.  He insisted on bringing a dish, and put in some time: calling Cheryl to get the recipe, buying the ingredients, and baking it.  The kitchen was not where Dusty excelled, but he pulled it off, and brought a fine-looking green bean casserole.  When he came over, he was beaming from ear to ear, and it wasn't because he had successfully baked a dish for dinner.  It was amazing to see him uncontrollably happy about having met Ashley the day prior.  We had known Dusty when he had dated other girls, and he had a remarkably different attitude about this lady than we had seen before.  He had a completely genuine joy about him during this time.  Watching Dusty and Ashley get to know each other, and eventually get married was a great experience to be part of.
  During our year and a half in flight school together, Dusty and I lived in the same small neighborhood in Milton, FL.  On every Friday and many other days we would meet in my garage and play darts while talking, passing tips on upcoming flights, and generally wasting time.  We talked a lot about flying: how to get through flight school, what we wanted to fly when it was over, how to make a career (outside the Marine Corps) doing it.  We also talked about pretty much everything else: how to grill good ribs, how to love your wife, and general hopes and dreams.  This time together provides many of the memories that allow me to look back at the life we lived in Florida, and remember a good life.
  My wife and I had our first child right at the time that Dusty and I were finishing flight school.  Dusty had no reason to know anything (at the time) about what was involved in giving birth to a child.  The medical stuff, how hard it is on the mom, how tired everyone is… Besides actually having our child be born, my favorite memory about the day it occurred is Dusty arriving at the hospital about two hours after the birth.  With flowers, Ashley and a huge smile, he walked into the hospital room, excited to share in this special day.  Seeing his happiness on one of my biggest days showed me how genuine his friendship was.   He insisted that he was the child's Godfather, so, before we moved away from Florida, we had a short baby dedication at our church, with Dusty there to supervise and make sure he was given the role to which he was sure he was entitled.
  We spent our years in CA learning how to fly the Huey, working through deployments, and growing families.  I was impressed that Dusty managed to find the only house around (in crowded southern California) that resembled a farm.  I was able to stand up with him at his wedding, and enjoyed watching his family grow.  Dusty's character was honest and joyful.  He was a wonderful friend.  He is greatly missed.
David and Lana View
I first remember Dusty in preschool. We used to ride together and our moms would take turns driving. He was the only kid I knew in preschool.
My mom had all the kids that would ride on the same van to kindergarten over so we could all meet. I was extremely naughty and buried all of Dusty's ninja turtle toys in my sandbox. I don't think we ever found one of them.  I was in trouble with my mom!!
In elementary in probably 4th grade Dusty got into trouble for talking too much I think. The teacher pulled his desk way up front away from everyone else…seemed like for a long time.
The day before Junior Prom Dusty called to ask if I wanted to ride to prom with vince Guthrie and him. I didn't have a date. So I was riding with Jolene Latter. So all 4 of us rode together to prom. It was nice of him to ask…make sure I didn't have to go alone.
We also had some sort of running joke. Both of us were out for basketball but never really played a whole lot. So we had tips or rules for how to be a benchwarmer. I don't remember many of the rules…except for don't sit on a crack and try to hide a bag of popcorn behind you.
Dusty was a part of many childhood memories. We were neighbors, classmates, and friends. Everyone loved Dusty.
Katie Sisson
An email from Dusty to Sheri Lukasiewicz
"So do not fear, for I am with you; do not be dismayed, for I am your God. I will strengthen you and help you; I will uphold you with my righteous hand. Isaiah 41:10
Just thought that might help.
Dusty"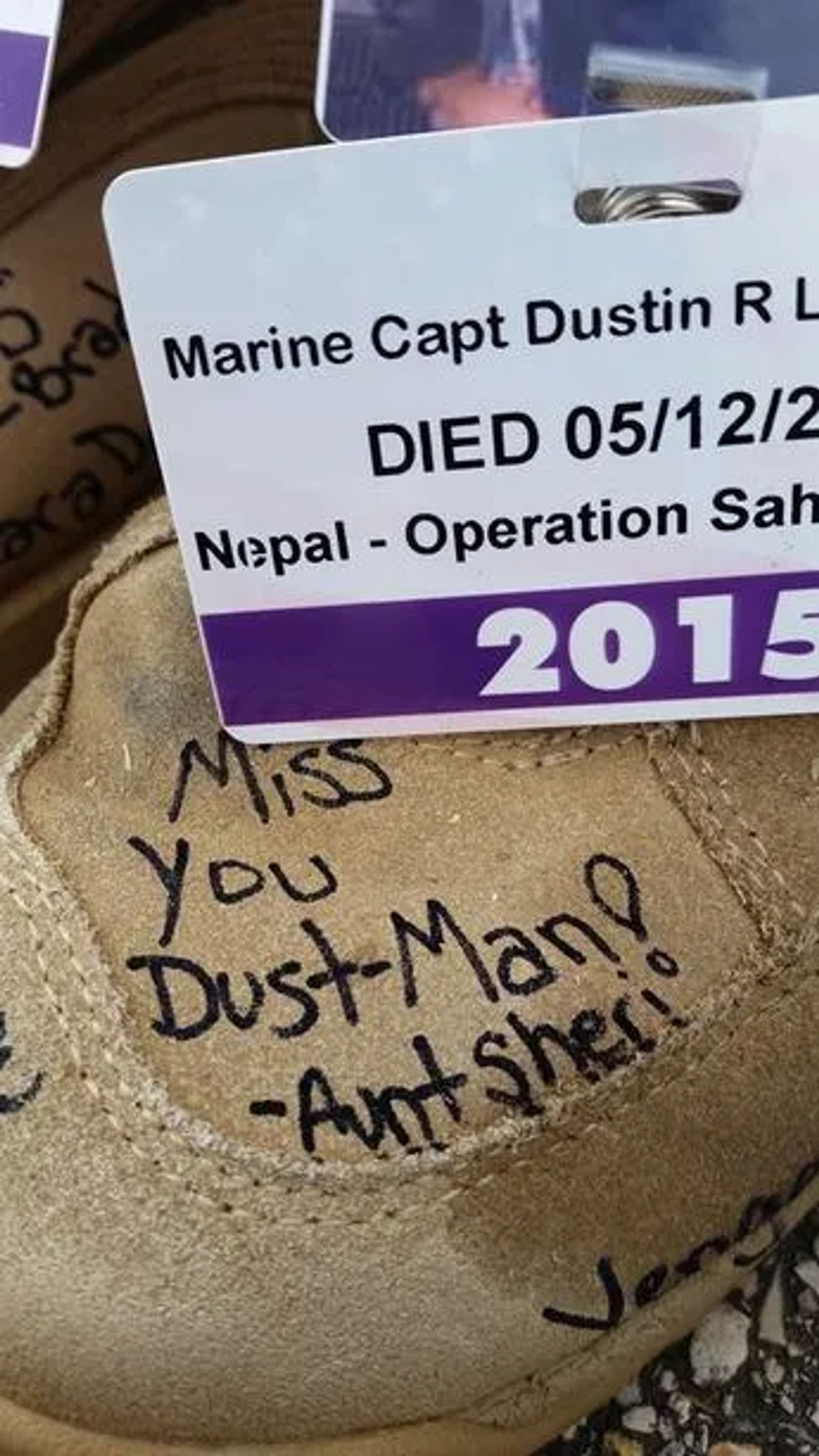 These are Lana View's favorite memories and stories of Dusty
USMC Ball 2009
Pensacola, FL:
Dave, Dusty, and I all went down to Pensacola and got a couple of rooms in a hotel for the ball. The boys were drinking while I was getting ready and when I was all done and walked out, Dusty was such a gentlemen and told me I looked beautiful. It made me feel wonderful. We all enjoyed dinner, a ceremony, and some cake before we separated around midnight. Dave and I went back to the hotel room and around 2 or 3 am we got a loud unending procession of knocks at the door. It was Dusty looking to get back the beers he had left in our room before the ball had even started!
Thanksgiving 2009
Milton, FL:
First of all, Dusty walked in to our casual California Thanksgiving in a long sleeve shirt, tucked in to khaki pants with a belt. He was so cute to dress up for Thanksgiving. He had called his mom to get a recipe for one of his favorite dishes, green bean casserole, and was so proud that he had made it. Dusty was part of our family he was with us so much and he came in smiling from ear to ear. We knew something was up. When we asked what he looked so happy about he replied "I met a girl." This was the first time we heard about Ashley. We met her a couple weeks later when they came to a play that Dave and I were in for church. It was a terrible play and we were horrible actors, but they sat there and supported us.
Dusty was the only person Dave wanted to see before he left on deployment and the first friend he wanted to grill for when he got back. My favorite memories are the ones watching Dave and Dusty sit on the back porch by the barbecue with a beer talking about everything under the sun (especially flying, farming, and football). He would always walk in and ask what was for dessert. The saddest I ever saw him was when his bloodwork came back pre-diabetic so he had to stop eating so many desserts. I made sugar free ones for him always, but it just wasn't the same. Eventually, he just went back to eating the real thing.
May 27, 2011
San Diego, CA:
I was bringing water to the groomsmen while everyone was getting ready and I happened to notice that under Dusty's beautifully cleaned and pressed white pants were plaid boxers showing through.  Quickly, I told Cheryl about the boxers and she found some pins to pin them up, but he was not happy that I made such a big fuss over his plaid panties.
Dear Izzy and Dusty,
My name is Molly Meduna Dudley and I am a friend of your daddy's.  We grew up together and went to the same school; he was two years behind me.  He was one of the friendliest, most fun kids to hang around.  Never a dull moment with Dusty!  In high school we went to youth group together, at Bud and Marianne Paben's.  I found this picture of him from one of those nights.  Looks like he wasn't prepared when I said, "Hey, Dusty!" and snapped a picture.  We also had the opportunity to perform together in our all school play, "Faith County." He was the leading man, and I was his bride.  It was a redneck wedding and it was fantastic!  Dusty made everything fun, and this was no exception. From left to right in this photo is: Dusty, Bryce Johnson, myself, Jill Gitt Steuter.
I pray you grow up knowing what hero your daddy was.  He will never be forgotten.
Sincerely,
Molly Dudley
Dusty's childhood friend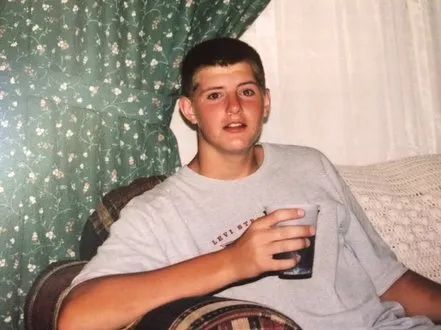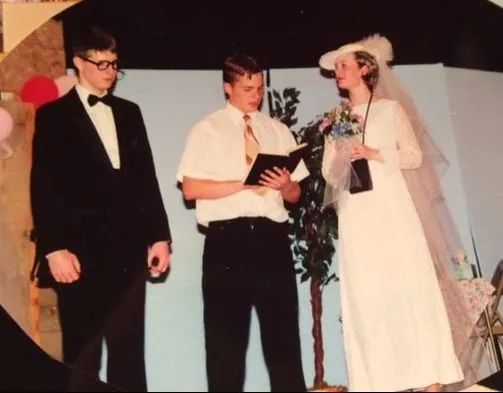 Dear Izzy and Dusty jr.:
When I think of Dusty, I remember his great sense of humor.  We had a lot of laughs together; lots of good times.  Dusty loved movies, and we shared a penchant for quoting them.  Sometimes we'd try to out-quote the other with movie lines.
Movies and shows he liked in particular: Slap Shot (1977), 48 Hours (1982) and the sequel, Fear And Loathing In Las Vegas (1998), Cape Fear (1991), The Big Lebowski (1998), Chappelle's Show and others.  When Dusty and Izzy grow up, maybe they'll watch them and understand what made him laugh.  I still get the urge to pick up my phone and text him something only the two of us would laugh at.
Attached is an email Dusty sent me in March 2011.  The two of us would send each other this nonsense constantly!  It was our little thing.  And, when they're old enough, we can talk more about it.  My door will be forever open to Ashley, Dusty and Izzy.
I hope this gives you a sliver of insight into who Dusty was.  "There he goes. One of God's own prototypes. A high-powered mutant of some kind never even considered for mass production."  Yeah, Dusty's laughing about that one right now!  :-)
Best Regards,
Patrick O'Neill
I met Dusty's mom, Cheryl, when she was pregnant with Dusty and we spent a lot of time together in the years to follow!  We had a lot in common - she had 3 kids who were about the same age as my 3 boys.  Dusty was her middle child and the same age as my middle child, Kyle.  We often got together for play dates with our kids, who had such fun together.  One year, our family went on vacation to Colorado and made plans to meet up with Cheryl and her kids (and Cheryl's mom tagged along too) on a trip to the Denver Zoo.
I remember Dusty as a shy, quiet boy who didn't cause any trouble at our house.  Once the kids started going to school, they were in different towns and we spent less and less time together.  As far back as I can remember, Dusty wanted to be a pilot and was determined to find a way to make it happen!   We were very proud to call him our friend.
Peggy Graham
Lincoln, NE
Dear Isabelle & Dustin - "When someone you love becomes a memory, that memory becomes a treasure ".  I am your Great Aunt Shannon (Bailey) and I have a few memories for you that I treasure. 
I remember your dad as a sweet little boy who loved to play with legos.  No doubt that was the beginning of his love to build anything that would fly.  He was a cute little boy and it warms my heart to see his resemblance in both of you.
June 17, 1988 was your dad's 3rd birthday.  It was also my wedding rehearsal and Dustin was my ring bearer.  He wasn't overly excited about his ring bearer duties, but he walked down the isle with your Aunt Danie, which I think helped.  He did have a big smile on his face when after the dinner I brought out a birthday cake and had the wedding party sing "Happy Birthday" to him.  He was special to me and I wanted him to feel special.
I am sure by now you both know what a huge Nebraska Cornhusker fan your dad was.  In 1997, Uncle Dan coached at Akron and they happened to play the Huskers that season.  I came to Lincoln for the game and was able to get tickets for our family and friends.  The only catch was that they could not wear "red" since our tickets were in the visitors section.  Your dad was 12 years old at the time and to this day I cannot believe I didn't let the biggest fan wear "red" to his first Husker game.  It was a fun day and Nebraska won the game so hopefully that made up for it!
These are memories I definitely treasure.  Unfortunately, I lived far away from family for many years and missed out on a lot of Dustin's up bringing.  However, I was always in close contact with your Nana Cheryl who kept me updated on what Dustin was up to and all of his accomplishments.
Your dad had many dreams and goals.  His life may have been cut short, but he fulfilled many of those dreams because of his determination and courage.  May you, Isabelle and Dustin, follow in your dad's footsteps and always follow your heart to fulfill your dreams.
All my love,
Great Aunt Shannon (Bailey)
Dustin Ryan Lukasiewicz AKA
Dusty
Legomaniac
Dustbuster
Guy (ask your Aunt Nikki about this)
Sandwich
    Captain