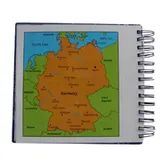 Country-Specific Journals
$29.00
Skooblevart's travelbookS (yes, that's a palindrome) are designed to be purchased before your vacation. Learning about the country you are going to visit will leave you saying, "I can't wait!" They are a perfect gift.
Our Country-Specific Journals have fascinating facts and tantalizing trivia about the country you'll be visiting. Topics include food, history, culture, nature, architecture, and many others.
If you don't see the country you want listed below, please check out our Personalized Journals.
*Look below to learn more about our unique books.*
Features:
7 ½" x 8" book
At least 40 pages of fascinating information about the country you'll be visiting
An amazing map of the country you'll be visiting
30 journal pages
3 large colorful envelopes for memorabilia
2 handmade colorful covers hefty enough to use as a solid back for writing
1" loop wire binding able to fold all the way around, making it easy to handle and write
Made by hand in the U.S.A.
*Cover colors will vary!*
Our unique books are a perfect companion for your travel plans!
Our journals have 3 large colorful envelopes to hold those beautiful Louvre Museum brochures or ticket stubs that you just can't bear to throw away - or maybe those pretty postcards you bought and never sent.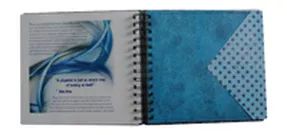 Each of our country-specific books have marvelous maps made by our in-house "cartographer."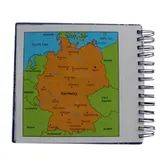 Not only does this book have pages of delightful information, but it has 30 journal pages. Many of these pages have pictures to inspire the writer!
We include a fun little book-in-a-book, and decorative papers for a more distinct journal!